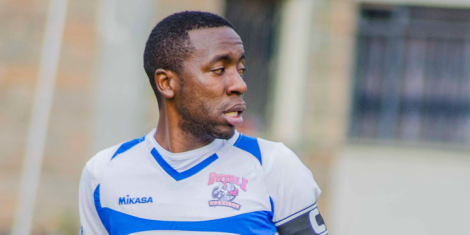 Arguably one of the best hockey strikers to emerge from Kenya - George Mutira has broken silence regarding his comeback to the game. 
The 33 year old had announced his retirement in 2017 with plans to focus mostly on his club stint with Butali Warriors. 
The opportunity to inspire the young players and improve Kenya's nose-diving performance at the international stage are reasons why veteran striker George Mutira accepted a return to the men's hockey national team.
Mutira was apparently recalled for the African Cup of Nations duty that is going on in Ghana.
The former Amira Sailors player missed on the final 19-member squad after undergoing a minor finger surgery after he was injured in training but was a sure bet to travel was it not for the setback. 
"Seeing Kenya lose to Uganda in the friendly matches last year was probably the lowest moment for the team. It was hard to accept the mediocrity," Mutira, who has played for a decade, observed. 
"The current squad is young and inexperienced. Most players have not played at the international stage and there's a need for a smooth transition and as well help them settle into the culture of the national team," said Mutira.
"Professionalism is important in sports and we've had a lot of impact by the time the team was named." 
Mutira was the top scorer in the Kenya Hockey Union league in 2018 with 23 goals. He managed over 30 goals for the three seasons he played for Sailors and has been the go-to man with the sugar millers.
On missing out on the team, he said: "At my age, I wasn't disappointed but I took it with a pinch of salt because this was my last hurrah. I had to swallow it, knowing the injury would have prevented me from giving my best shot."
"The focus is on helping the boys become men. We have been through the Covid-19 pandemic for two years and the senior players had to come back to embark on bringing the team to where it used to be. This will ensure that when we exit, we leave the team in a better place."
Despite gracing the Olympic Games in the 60s and 70s, Team Kenya have been a pale shadow of its former self.
Africa Cup of Nations:
In the ongoing Africa Cup of Nations, The day's (January 19th) only other game came in men's Pool A, with South Africa overcoming Kenya 2-1. All three goals came in a ten-minute spell with a brace from Nqobile Ntuli on 33 and 37 minutes putting South Africa into a 2-0 lead.
Constant Wakhura pulled a goal back three minutes later for Kenya but South Africa were able to hold on for the victory. South Africa now top the pool with six points, with Kenya in second place on three and Namibia bottom with zero.
Kenya's women have endured a difficult few days which started with a delayed arrival to the tournament, but got off to a good start on the pitch by beating Zambia 3-0.
Despite arriving in Accra on Tuesday January 18th, the side were not there in time to play their match against hosts Ghana, who were awarded a 5-0 walkover win.
Kenya were originally due to play Zambia on Monday (January 17th) but this match was rescheduled, and Kenya took full advantage. Aurelia Opondo, Flavia Mutiva and Grace Bwire netted for Kenya as they got off to a winning start in Pool B.
Kenya now move into third place in the pool with three points, just behind Ghana and Nigeria, who both have four.