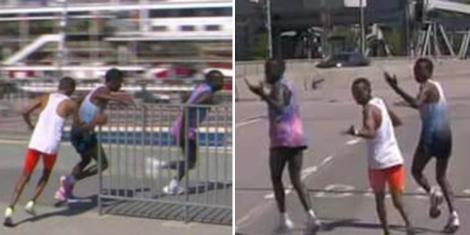 Kenyan athlete Felix Kirwa has made international headlines after missing a rare chance to break world history after he was misled by a marathon official during the Stockholm race in Sweden.
According to viral videos emerging of the race, Kirwa was leading the pack of other athletes who took part in the race when he was led off course due to a communication error by the race official.
Kirwa, who was on the verge of entering world history books, ran in the wrong direction for almost a minute before he was informed that he was misled.
The viral videos showed Kirwa being led across a bridge before being informed they had taken a wrong turn and needed to turn back.
Kirwa was then seen venting and expressing his frustration over a blunder that cost him despite preparing to break the world record in the 42-kilometer race.
Before taking the wrong turn, the course record had projected that Kirwa was going to break the world record by clocking 2:10:10. But the miscommunication from the official threw the record off the window.
Despite taking the wrong course, Kirwa recovered and still managed to win the race but clocked a time of 2:11:07.
"I am very happy to win the Stockholm Marathon. But we ran wrong and we missed the record because of it," Kirwa told TV4 after the race.
In 2021, two Kenyan athletes suffered a setback in the US after losing out on cash prizes despite coming first in a race.