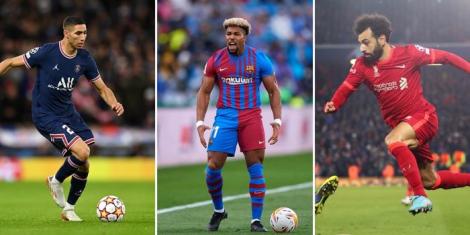 Football tactics have evolved over the years, from Johan Cruyffs total football to Pep Guardiola's tiki taka and the German gegen pressing. In modern day football, managers have modified the tactics to incorporate fast-paced football.
While most teams prefer to build from the back, or posses in their opponent's half, counter attack football has been instrumental in salvaging points. However, this can only be done with the help of a few fast yet tactical players.
TeamKenya.co.ke looks at some of the world's 10 fastest players.
1. Alphonso Davies
Bayern Munich left back Alphonso Davies tops the list with a foot-speed of 36.51 kilometres per hour (kph). The 21-year old Canadian international joined Bayern as a defender but impressed on the flanks with his ability to lead the counter attack yet track back to position.
Davies' pace is paired with skills which he displayed  in a brilliant performance when Bayern humbled Barcelona 7 - 0  in the 2020 UEFA Champions League semi-final at the Allianz Arena.
2. Achraf Hakimi
Paris Saint Germain defender Achraf Hakimi comes in second at 36.48 kph. The wingback's pace and dribbling has contributed immensely to the French side's Ligue 1 title - scoring four and assisting six.
Also read: Kandie Kibiwott Crowned Fastest Runner Ever in Men's 10km
3. Marcus Rashford
Reaching a top speed of 36.3 kph, Marcus Rashford concludes the top-three. The Manchester United forward is quick on his feet and can also dribble past the defense. 
Despite being out of form this season, he managed to put four balls in the back of the net. With the conclusion of the season, the forward has been spending time at the gym ahead of the next season.
4. Adama Traore 
Barcelona's Adama Traore is a nightmare to defenders. With a physical rating of 82, his speed of 36.08kph makes him nearly unstoppable.
Traore, who is on loan from Wolves, has scored once and set up two others for the Catalan giants, where he began his career in top football.
5.Kylian Mbappe
PSG forward Kylian Mbappe comes in fifth at 36.08kph. The 23-year-old uses his pace in counter attacks and dribbling to cut through defenses in the Ligue 1.
Mbappe has also been clinical before goal, becoming the league's top scorer with 28 goals. In addition, he set up 17 others, teaming up with Lionel Messi and Neymar Jnr.
6.Leeroy Sane
Leeroy Sane has a top speed of 36.05kph. The Bayern Munich winger is multi-talented as he is skilled in dribbling and boasts of a powerful shot on both feet. He scored 7 goals for the Bavarians this season.
7.Erling Haaland
Manchester City's new signing, Erling Haaland, makes it to seventh on the list. Towering at 1.94 metres, he can run a top speed of 36.04 kph, and is the current holder of the Bundesliga speed record.
The former Borussia Dortmund striker can dribble and possesses a high shot power on both feet. In the 2021/22 season, he scored 22 goals and assisted 8.
8.Kyle Walker 
Kyle Walker is a multi-faced defender. While he remains very solid in defense, he uses his 35.71kph speed to create chances at the front and track back when under attack.
9.Aubemayang
Barcelona forward Pierre-Emerick  Aubameyang clocks in a speed of 35.5kph. The Gabon international found his form at Camp Nou after a troubled season at Arsenal with 11 goals for Catalans.
10.Mohammed Salah
The Premier League Golden Boot winner, Mohammed Salah, closes the top 10 list. Bagging 22 goals this season, Mo' Salah, is quick on his feet and one of the most stable players when dribbling at 35kph.