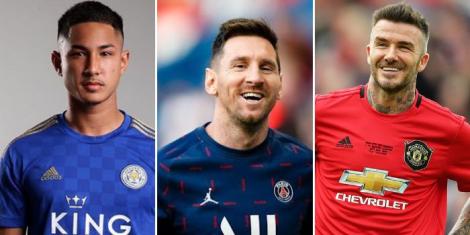 Football is among the top five highest paying sports in the world and boasts of a large following globally, with FIFA World Cup and the UEFA Champions League being some of the most watched leagues.
First introduced in the 1800s by Walter Camp, an ex-rugby player at Yale University and who sought to change rules of the game to a modern style, the game has evolved into a top sport producing among the highest-paid athletes in the world.
Here are the 10 richest  football players of all time:
1. Faiq Bolkiah
23-year-old Faiq Bolkiah is the richest footballer of all time. Despite not having a successful career and  being rejected by top clubs in the Premier League and a quiet care, his wealth is valued at Ksh2.3 trillion.
Bolkiah, who plays for Chonburi FC after a brief stint at Leicester City, did not amass his wealth from football. His net value is linked his Brunei Royal Family in which he is a member.
2. Mathieu Flamini
The former Arsenal and AC Milan player is valued at Ksh1.6 trillion. Like Bolkiah, he had a quiet career and did not rake in millions in pay.
Flamini had interests away from football and confounded GF Biochemicals, a company that provided an alternative to oil-based products. The company grew exponentially earning millions by the minute for the Frenchman.
Also read: How Mike Tyson Squandered Ksh49 Billion Fortune
3. David Beckham
Retired English midfielder, David Beckham, is worth Ksh78.4 billion. With Manchester United offering him Ksh13 million per week, he was named the highest-paid player in 2002.
He went on to play for top clubs including Real Madrid and AC Milan and the England National Team. Despite hanging his boots, he continued earning from brand endorsements and an acting career.
He co-owns Inter Miami FC and is a shareholder at Salford FC with former Man United legends Phill Neville, Ryan Giggs, Nicky Butt and Paul Scholes.
4. Lionel Messi
Arguably the greatest player of all time, Lionel Messi's total net worth is valued at Ksh70.2 billion. The six-time Ballon d'Or winner was named by BBC Sports as the world's highest paid sportsman, earning Ksh15 billion a year.
The rest of is fortunes is earned through partnerships with leading global brands. 
5. Cristiano Ronaldo
Manchester United forward, Cristiano Ronaldo, is among the richest footballers of his generation. His Ksh58.5 billion net worth matches his Ksh13.6 billion annual salary.
Notably, Ronaldo makes more money from his social media handle, boasting a following of 440 million. In addition to multi-million endorsements, he gets dividends from his CR7 clothing line and chain of hotels.
6. Dave Whelan
English legend, Dave Whelan, is valued at Ksh25.5 billion. The former Blackburn Rovers Star had his career cut off after a dangerous tackle in the FA final against Wolves that led to a broken leg.
He then ventured into grocery production, a  company he sold for Ksh218 million. He then bought DW Sports, which deals in sports equipment.
7. Neymar Jr
Brazilian sensation and PSG winger, Neymar Junior, has a net-worth of Ksh23.1 billion. Once the most expensive player in the world, he earns Ksh11.3 billion a year from football.
He also earns from several endorsements and partnerships as well as appearances in movies such as the Return of Xandr Cage.
8. Zlatan Ibrahimovic
The Swedish star is valued at Ksh22.2 billion. Ibrahimovic made top-dollar playing for Man Utd, Barcelona, Ajax, Inter Milan and AC Milan and multi-million sponsorship deals.
9. Wayne Rooney
Derby County manager, Wayne Rooney, comes in ninth place with a net worth Ksh18.7 billion. He has made millions from football, a sport he considered ditching for boxing.
10. Andrea Iniesta
Former Spanish and Barcelona midfield maestro, Andres Iniesta, has a net value of Ksh14.3 billion. Now playing for Japanese side Vissel Kobe, he makes Ksh3 billion a year from the sport.