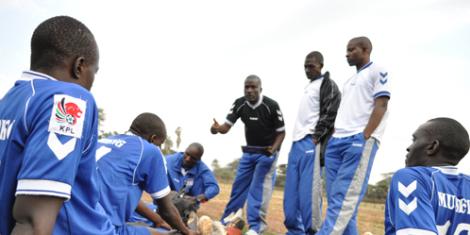 Three suspects have been arrested in connection to the robbery at the Nairobi City Stars dressing room robbery during an FKF Premier League match against Gor Mahia on Sunday, May 29.
In a statement released by the club's CEO, Patrick Korir, the three were picked up for questioning during Nairobi City Stars' season-ending game against Talanta FC this past weekend. 
Korir revealed that the suspects had been hired as stewards to safeguard the same items that they stole which included 13 mobile phones and Ksh94,050. 
Also Read: Kenyan Refugee Sends Australia to Qatar World Cup
The theft was discovered at halftime before the squad returned for the second half pep-talk.
"The suspects were stewards hired by Simba wa Nairobi to safeguard the same items that they made away with from a changing room that hosted the team.
"The theft was only discovered at halftime as the squad returned for a pre-second half pep talk," Korir stated. 
The club's boss pointed out that the new revelations exonerated Kasarani Stadium management for any negligence. He also lauded the facility's administration for their cooperation during investigations. 
"Nairobi City Stars wishes to exonerate Kasarani Stadium management for any negligence and do hereby extend a congratulatory note for their professionalism and cooperation, as well as the Police from the Station within the Stadium led by the OCS, for providing all necessary images from their set of CCTV cameras that led to the identification of the suspects."
This led to a five-minute delay in the second half before the players proceeded to the stadium. The incident derailed a motivated Nairobi City Stars which lost 2-3 to Gor Mahia. 
The players were surprised to find their valuables missing with one of the players claiming that they lost Ksh30,000.