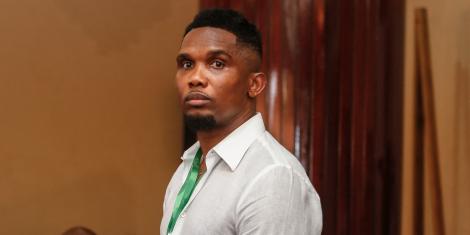 Former Barcelona striker, Samuel Eto'o was handed a 22-month prison sentence after admitting to Ksh470 million during his time at the Spanish-based club. 
According to proceedings at the Ciudad de la Justicia court in Barcelona on Monday, June 20, Eto'o agreed to pay the Ksh223 million fine as well as settle the Ksh470 million in tax owed between 2006 and 2009. 
The former Cameroon forward argued that he was in his 20s at the time and acted according to what his former agent, Jose Maria Mesalles, told him to do. 
Also Read: 5 Football Stars who Followed in Their Father's Footsteps
"I admit the facts and I am going to pay what I'm due, but let it be known that I was a just a child then and that I always did what my former agent Jose Maria Mesalles, who I considered like a father, asked me to do at that time," he stated in court. 
Initially, the prosecution had sought for Eto'o and his former agent to serve a minimum sentence of four years and six months each. However, the judge ruled that the former footballer did not have a past criminal record. 
His former agent, Mesalles, was handed a one-year sentence. 
The 41-year-old now joins the list of international stars such as PSG forward Lionel Messi, and Manchester United's Cristiano Ronaldo who have been on the spot over tax avoidance. 
In 2017, Messi was ordered to pay Ksh31 million after being found guilty of defrauding Spain of Ksh509 million over a two-year period. 
His father, Jorge Messi, who acts as his agent, was also pronounced guilty and ordered to pay a Ksh22 million fine. Initially, Messi and his father were handed a prison sentence of 21 months and 15 months respectively.