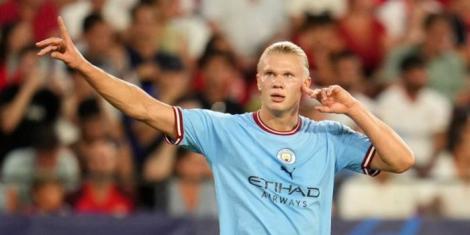 Manchester City boss Pep Guardiola addressed the debate over Erling Haaland's involvement in the team.
Pep highlighted that it was his task to find a way to get the Norwegian more involved in Manchester City's play.
The debate came after Haaland's 20 touches of the ball and one shot on goal sparking a debate on whether City plays to his strengths.
Also Read: Graham Potter Addresses Chelsea Fans' Frustrations Over Poor Results
"Haaland needs the team to score the goals. He is unlike Messi, who can get the ball, dribble past three or four players, and decide the game for himself.
"He will score goals when we understand him a little bit better. I don't have doubts about that," Pep explained.
The Norwegian has already registered 26 goals in the Premier League, and Pep pointed out his expectations are high.
"Earling has a problem as he has to fight for his standards, but he is strong and he will improve," Pep added.
The Spanish manager also praised Jack Grealish, stating that he needed time to adapt to the team.
Pep described Grealish as an incredible person both on and off the pitch.
Manchester City is set to take on Bournemouth in the next Premier League fixture on Saturday, February 24.
Also Read: Arteta Makes Good of His Promise as Injured Elneny Extends Contract