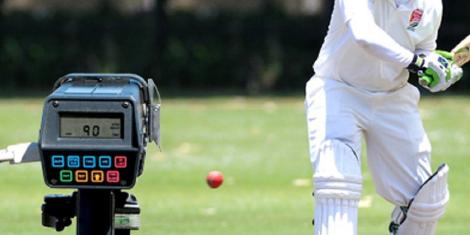 With the renowned speed gun, Africa through South Africa truly inspired the sports innovation world. 
The speed gun, made by a South African engineer, Henri Johnson, accurately measures the speed and angles of speeding objects such as cricket and tennis balls.
The Somerset West inventor used his knowledge in sonar and radar to develop this technology in 1992 and was formally launched at The Oval in England during the 1999 Cricket World Cup.
Originally known as the Speedball, the device has since been sold in cricketing countries and in the U.S. and Europe.
Essentially, the invention gives "fascinating insights into the flight paths of balls and the playing techniques of famous sportspeople."
Johnson developed an interest in engineering when he was a child and this compelled him to study the subject at the university.
His initial focus, as a professional engineer, was on projects using sonar, which were commissioned by the South African Navy.
He later developed radar technology that could measure the velocity and ballistics of projectiles in flight. This technology is now used by the military in more than 20 countries around the world. 
Following years of experience in this field, Johnson realised that there was an opportunity to apply the technology in sports, thus, with the South African engineering company, Electronic Development House (EDH), in Stellenbosch, Johnson was able to cater to other industries needing the technology, including sports.
In 1992, he and EDH invented the "Speed Gun" and later improved his invention with the development of the EDH SpeedBall, which uses a Doppler radar system initially developed for the military, to measure the speed of a cricket ball in flight.
The device is placed at either end of a cricket ground and takes a reading every 1/1 000 of a second. It can measure the ball every few centimetres in its flight, with an accuracy of less than 1 percent of the actual speed. It computes the speed from the moment the ball leaves the bowler's hand to the moment it strikes the pitch (or bat), and again after it bounces. It compensates automatically for the various bowling angles and distances, and ignores stationary objects.
Johnson subsequently applied his technology to the tennis court and invented the world's first 3D tennis serve speed measuring device, the RaquetRadar, which measures the speed of a player's service.
He later turned to golf after a banter with colleagues about measurement and which information golfers truly desired and, in 2004, developed the world-famous FlightScope, a comprehensive 3D golf ball tracker, which has since been used by top golf instructors, equipment manufacturers and club fitters across the world.