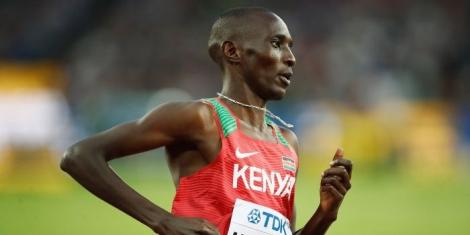 2008 Olympic star Asbel Kiprop has finally broken his silence on battling alcoholism and depression during his four-year ban from athletics. 
Kiprop was banned by the Athletics Integrity Unit's (AIU) panel after testing positive for energy enhancement substances in November 2017.  
The former gold medalist was provisionally suspended on February 3, 2018. 
Speaking on Wednesday, February 2 after finishing his four-year ban term, Kiprop narrated that he grappled with alcoholism which took a toll on his life. 
The 1,500-metre champion emotionally narrated that the ban nearly made him sink into depression and uncontrolled alcohol consumption. 
"It reached a time when I became alcoholic. I was at the lowest point in my life, battling depression," Kiprop stated. 
According to the athlete, nearly all his friends and fellow athletes did not want to associate with him. He was left alone, stranded, with no one to turn to. 
"It was not an easy experience, It was hard because my friends deserted me. They did not reach out to me," Asbel lamented. 
In his appeal to race organisers, Kiprop has asked them to consider him in the upcoming races. The star athlete expressed fear that he is likely to be neglected because of the ban and its impact on his life. 
"Even though I know many race organisers will not invite me to their races, I would gladly appreciate participating even in the smaller races. I will give it all and make that race worth it because the sport is not about this big money," the athlete, who is trying to get back on his feet, pleaded. 
Kiprop described the experience as devastating, noting that those who were wrongly prosecuted should borrow a leaf from his comeback and learn that life will always offer a second chance. 
He intends to participate in his first competitive race in April 2022, starting his athletic journey from scratch. 
"Coming back is a priority full of expectations. I hope to be back with an elite feeling of an athlete." 
Kiprop was vocal against doping for all four years he was barred from the sport. 
Anyone who is battling depression and mental issues is encouraged to call the Kenya Red Cross toll free hotline, 1199, to be offered support and counselling.