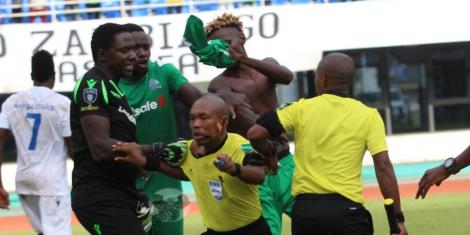 Referees overseeing matches under the FKF Caretaker Committee have accused the body of failing to pay them for five months.
Speaking to the press on Friday, May 6, Kenyan referee Shaban Mwajao noted that despite the promise by the caretaker committee to better the referees' wages, they have not received any pay since January.
The committee, appointed by Sports Cabinet Secretary Amina Mohamed, will have its mandate concluded on May 11.
The referees say despite officiating the matches, they have not received any pay since January this year.
Also Read: Ex Harambee Stars Striker Escapes Grisly Road Accident 
When the caretaker committee took office, it came up with a policy meant to improve the welfare of match officials including increasing their payments.
However, the funds were only a mere promise as they have not been forthcoming.
"When FKF was in office, we were getting our pay on the pitch as teams would pay us themselves, but after the changes, things became difficult," Mwajao noted.
The disgruntled referee went on and pointed out that due to the lack of payment, match officiating is not done to one's best capabilities.
In Kenya, the main referees in the FKF Premier League together with their assistants are paid a total of Ksh20,000 per match.   
Those in the second-tier league, the National Super League (NSL) are paid Ksh4,500 for the main referee and Ksh3,000 for the assistants. 
As for the Division One referees, they take home Ksh3,000 per match officiated. 
Also Read: GSU Officers to Provide Security During Mashemeji Derby