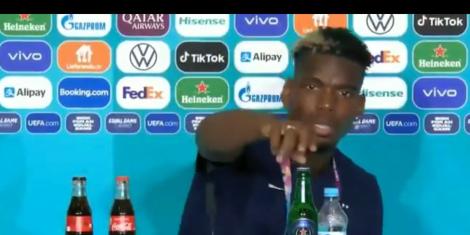 Manchester City has expressed interest to sign rival Manchester United's Paul Pogba after his contract expires this summer, bringing to an end his 12-year-old career at Manchester United since joining the club's junior team.
The decision to sign the 29-year-old footballer is strategic for Man City as it has courted him in the past.
Additionally, Pogba is a self-confessed admirer of Manchester City's coach, Pep Guardiola, and his coaching skills.
Also Read: Ferdinand Omanyala Wins Kip Keino Classic
Pogba will prudently consider all offers presented to him before settling on where he feels his football career is best anchored.
His move to quit United has been met with resentment by his fans who booed him at Old Trafford in late April after he was substituted in the 3 - 2 win over Norwich.
As his contract with United draws closer to an end, he is also open to negotiations with other football clubs outside of the United Kingdom
Paris Saint-German (PSG), Juventus, and Real Madrid, are some of the clubs that have expressed interest to have the French-born Pogba on board.
Pogba's suitability in the premier league has been questioned by several players in the league.
Born Lagny-Sur-Marne, Pogba joined the youth team of Ligue 1 side Le Havre in 2007, before a protracted transfer brought him to Manchester United two years later.
His Manchester United stint was interrupted when he joined Italy's Juventus on a free transfer in 2012 citing fewer appearances in matches.
In his short stint at Juventus, Pogba helped the club to four consecutive Serie A titles, as well as two Coppa Italia matches.
Upon his return to United, Pogba's career flourished and is now one of the most sought-after players in the Western world.