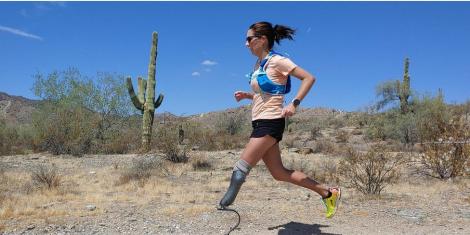 In the quest to achieve our goals we encounter many challenges. Some are self-inflicted and others are beyond our control.
That was the case for South African-born, American-based long-distance runner Jacky Hunt-Broersma.
In her early years, she lived briefly in England and later in the Netherlands before relocating to the United States where she currently resides in the state of Arizona.
Also Read: Winners of Nairobi City Marathon [LIST& PRIZES]
Jacky, shocked marathon enthusiasts when she announced the sad news of her amputation following a ravaging battle with Ewing sarcoma, a type of cancer that affects bone tissues. 
After receiving the devastating news, her fans thought her promising career as a marathon had come to a sudden halt.
For many people, accepting such a life-changing condition can be an uphill task given the time and worries about how others will perceive sudden change. Jacky underwent the same experience and used to wear long trousers in public to hide her prosthetic leg.
However, as fate would have had it, that would not be the case. The loss of her leg saw her take a break from the world of long-distance marathons until her major come back.
After the lengthy break, she made a comeback in 2016 where she awed many when she shared videos of her running on a treadmill.
Determined to get on track, she started off with the 5-kilometer runs and after a great deal of consistent practice, she regained her former glory of running the 100-kilometer races.
"Starting Monday I will be running a marathon a day for 100 days, a total of 2620 miles. The current record is 95 days. Yes totally crazy but I don't do small goals. We are always capable of more" Jacky announced.
The athlete kept updating her fans and supporters on her Instagram page where she consistently posed with a note indicating the number of miles and the day of the marathon.
After four months of relentless effort, she exceeded the set target of 100 days and covered 104 days and a total of 2724 miles with just one leg and a prosthesis.
"Can't believe a week ago I ran Marathon number 104. I started missing running on day 3 of my rest day this week.
Can't wait to get back on the trails and build up miles for Moab 240" she shared the good news while indicating her next endeavor.
The 'ultra runner' as she describes herself, narrated that marathons reinstated her confidence and how she perceives herself. She now feels free and fearless.
If the Guinness Book of Records confirms, she will set a new record as the first amputee to run consecutively for 104 days.
Jacky will take a two-week breather before preparing for the Utah ultramarathon slated for October.