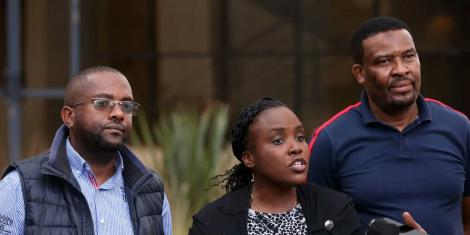 Football Kenya Federation (FKF) Caretaker Committee has outlined a raft of proposals aimed at streamlining football activities as its term ends.
The fifteen-member committee presented its final report to Sports Cabinet Secretary Amina Mohammed on Tuesday, May 10, after it was constituted six months ago when the government disbanded FKF.
Among other recommendations, the Justice (Rtd) Aaron Ringera-led team suggested that the management of Kenyan football leagues be handled by a limited company.
Also Read: Questions Raised Over Validity of FKF Caretaker Committee Transfers
"That the Ministry of Sports, Heritage and Culture adopt the report contained herein on the commercialization of football as a sport including the appointment of a Director of Football who is to be a government employee" reads the report in part.
"That the FKF hands over the running of the leagues to a Limited Company for the efficient and effective running of the leagues" the report further recommends to that effect.
According to the committee, the government will oversee the management of the sport despite the leagues being run by an independent company since the Ministry of Sports will appoint a Director of Football who will be a civil servant and will be the government cop in the management of leagues.
The committee has also proposed the digitization of all football records adding that having data experts on board would bring much-needed transparency to the game.
The team was constituted on November 11, 2011, by CS Amina Mohammed to look into the challenges of the football sector and come up with recommendations that would bring sanity to the Kenyan soccer industry.
The move also saw the government kick out the then FKF boss Nick Mwendwa and his entire team over alleged mismanagement and misappropriation of funds.
The developments saw the world football governing body FIFA suspend Kenya from international competitions citing government interference.
It remains to be seen if the government will adopt and implement the recommendations by the Committee. It is also not clear if the Ministry of Sports will extend the Caretakers' mandate as their term lapses.