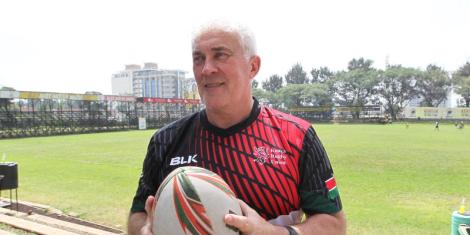 Shujaa's new coach, Damian McGrath believes that a lot needs to be done for Kenya to be a top contender in the upcoming international competitions. 
Speaking during a press briefing on Saturday, May 14, McGrath noted that he was surprised about the team's latest abysmal performance. The Shujaa's recent campaign in Singapore ended in a poor display at the group stages culminating in a disappointing loss to Spain. 
McGrath pointed out that the team lacked a style of play, something that would take time to establish before the culture changed.
Also Read: Kenya Sevens Coach Innocent Simiyu Fired
"The skills are poor, I won't hide from that and I heard someone ask a question about the style of play and it's difficult to see what the team was trying to do. So we will have to make some adjustments in the coming weeks."
The tactician noted that it was an honour to lead the team, pointing out that it was a blend of young and experienced players who had what it takes to win major competitions. 
"It's a huge honour. I got the chance to watch them train, lots of talent, young potential players, with some of the senior players around I am hoping we can make a few adjustments these coming weeks."
"I did not have to think twice about the job offer, it's a great opportunity. The Kenyan team was always difficult to play against," he noted.
Further, the coach pointed out that he would begin instituting his tactics in the coming weeks as he was keenly monitoring their training sessions. 
"I watched training this morning, but I didn't take part because I wanted to take a close look. The thing about trying to impose your thoughts so close to playing is that it can confuse the players."
"So we may have to take a hit this time but when we come back we will hit the ground running to improve and essentially be ready for the Commonwealth and World Cup games," Mcgrath stated noting that their aim is to get to the quarter-final stages. 
McGrath took over from Innocent Simiyu who was fired for the poor run having led Kenya Sevens since September 2020. 
He signed a two-year contract with the task of turning around the fortunes of Shujaa and lead them to ultimate glory in the 2024 Summer Olympic Games in Paris, France.