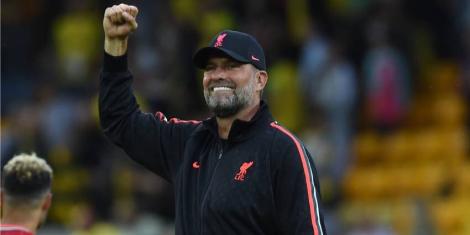 Liverpool won 2-1 in their Tuesday, May 17 match against Southampton at St. Mary's Park after an early scare in the 13th minute.
Jurgen Klopp's men knew they had to win on the south coast to remain in the race to become top-flight champions for the second time in 32 years and were stunned by Nathan Redmond's superb opener
The win means they have a one-point difference with Manchester City and only victory will be enough to guarantee Pep Guardiola's men their fourth league championship in five seasons.
Also Read: Wanyama Explains Video of Him Running Half Naked
In their way stands, the recently signed Aston Villa attacker Philippe Coutinho and the highest-paid  Guardiola's forward Danny Ings who are former Liverpool players.
Villa Manager Steven Gerrard is perhaps their biggest obstacle in the quest for the top position in the 2021/22 Premier League season.
Klopp's side must take care of their home business first. They have to beat Wolves at Anfield and hope City drop points at home to an Aston Villa by either losing or drawing.
The Reds are already in the Champions League final against Real Madrid slated for May 28, in Paris France.
Whatever happens over the weekend Klopp can only be proud of his boys for the impeccable record they have put up this season.
Nine changes were made in total for this 2-1 win over Southampton as the manager rotated some key names after Saturday's FA Cup final victory.
For the second time in just four seasons, the Reds will head into the 38th game in a tough battle with Manchester City for bragging rights.