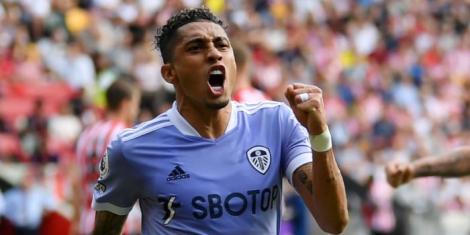 English Premier League club, Chelsea, is not likely to land its top target Raphael Dias Belloli (Raphinha) despite reaching an agreement with Leeds United.
Chelsea had tabled a Ksh7.4 billion bid which was accepted by Leeds. The only remaining hurdle for the Thomas Tuchel coached side was convincing the Brazilian winger to sign with them.  
Raphinha, who is represented by former Chelsea and Barcelona player, Anderson Deco, has not given his final answer to the Blues yet, since he prefers to join the Catalans.
Also Read: Global Stars You Didn't Know Have Kenyan Roots
He had agreed personal terms with Barcelona in April this year. However, financial challenges have made it difficult for the Spanish giants to strike a deal with Leeds. Barcelona was hoping to sell a few players, particularly Dutch international Frenkie de Jong to fund Raphinha's move.
According to talkSPORT, Barcelona is now willing to match Chelsea's figure and let Raphinha make his decision.
"The Spanish giants have agreed to meet Leeds' Ksh7.4 billion asking price and the player has already agreed personal terms on a move to the Nou Camp," talkSPORT reports.
Barcelona tabled a bid worth Ksh64.5 billion plus Ksh12.2 billion add-ons on Thursday which was declined by Leeds United. Leeds did not accept Barcelona's proposal because they want to respect the agreement that they have with Chelsea.
Raphinha is among the most sought-after wingers this summer. Top European clubs including Tottenham, Arsenal and Liverpool have been linked with him. A few days ago, Arsenal were leading in the race for his signature. The Gunners even tabled a €35m bid which was rejected by Leeds.
Raphinha was instrumental in Leeds' United relegation battle, scoring eleven goals and three assists in 35 appearances. His penalty goal in the final day of the 2021/2022 English Premier League campaign is what saved Leeds United from being relegated. 
The former Rennes player received his maiden international call up in 2021 and has impressed since then. He made his debut against Venezuela, winning a penalty and providing three assists.