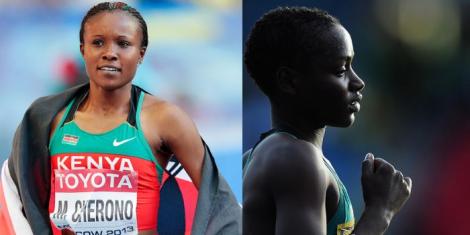 Having a sister is the best thing that can happen in life. A sister will always be there, pushing you to the limit and having your back whenever things go south.
Despite Kenya being a hotbed of athletics, very few people are aware of the existence of siblings in the Kenyan teams.
TeamKenya.co.ke has compiled a list of two sets of five sisters who are continuing to make Kenya proud in various international competitions.
Brigid Kosgei and Pamela Kosgei
World marathon record holder Brigid Kosgei has a younger sibling called Pamela Kosgei who competes in the 3,000m steeplechase race. Despite not enjoying a good run while representing Kenya, the 28-year-old has built a name for herself in individual competitions.
Also Read: Why Kenya Boycotted 1986 Commonwealth Games
Brigid has won almost all of the major marathon events that she has taken part in, including the London Marathon, Chicago Marathon and Tokyo Marathon. She is without doubt the queen of road races. 
Pamela is currently in Colombia representing Kenya at the World U20 championships. The 18-year-old who is just starting her career, trains alongside Brigid at Nyaru, Elgeyo/Marakwet county.
Remember her name! She is learning from the best and has all the qualities of becoming a great athlete.
Beatrice Chebet and Sandra Chebet
Sandra Chebet and Beatrice Chebet are another pair of sisters who have achieved great things in athletics. Beatrice was among the Kenyan athletes who won medals at the just concluded 2022 World Athletics Championships.
She spoiled Ethiopia's party by winning silver in the 10,000m race in a personal best time of 14:46.75. Beatrice is also a world Under 20 Cross Country and 5,000m champion. The 22-years-old has recently graduated from the junior category and she is seen by many as a worthy replacement for Helen Obiri.
Her elder sister, Sandra Chebet, is aged 24 and has represented Kenya in numerous international competitions including at the world and Africa Under 20 Championships. Similar to Beatrice, she also competes in 5,000m and 10,000m races.
At the 2020 Athletics Kenya field and track event held in Eldoret, the duo finished in the top two positions in the 5,000m race, with Chebet defeating her elder sister
Mercy Cherono and Caroline Chepkoech
Mercy Cherono, the 2013  World Championship 5,000m silver medalist has a younger sister called Caroline Chepkoech who also represents Kenya in various international competitions.
Cherono bagged a gold medal at the 2014 Commonwealth Games. Injuries have frustrated her career, particularly in the last five years. She started her comeback this year at the Kipkeino Classic. 
Caroline competes in different races ranging from 3,000m to half marathon. She has also won a lot of medals including the 2011 African Cross Country Championships title.
The 28-year-old who switched allegiance to Kazakhstan in 2021 was one of the pacers who helped Mary Keitany set the Women's only half marathon record at the 2017 London Marathon.
Also Read: Faith Kipyegon Explains How Being a Mother Made Her Stronger
Annete Kundu and Agripina Kundu
Annete Kundu and Agripina Kundu are the other siblings who continue to put Kenya on the global map. The latter plays for the national women's volleyball team (Malkia Strikers) while Annette plays for Kenya's women's football team (Harambee Starlets).
In 2020, Annete signed a professional contract with Turkish side Lakatamia FC. She was also part of the Harambee Starlets squad that won the 2019 CECAFA Women's Championships in Dar es Salaam, Tanzania.
Annete conceded only one goal in the entire competition, in the process winning the golden glove award.
Agripina on the other hand has enjoyed considerable success with Malkia Strikers. She is currently in Brazil with the Kenyan Queens preparing for the upcoming 2022 FIVB World championships slated for September 23 to October 15 in Poland and Netherlands.
Agripina was also part of the Malkia Strikers squad that won the 2019 African Championship held in Morocco.
Faith Chepngetich and Beatrice Mutai
Faith Kipyegon Chepngetich, the newly crowned 1,500m world champion has an elder sister, Beatrice Mutai, who is also an elite athlete. Kipyegon has never let Kenyans down. She has achieved a podium place position in almost all international events that she has competed in.
She is a two-time Olympic Champion - having won the 1,500m race at both the 2016 Rio de Janeiro and 2020 Tokyo Olympic Games. 
Beatrice on the other hand started as a 10,000m runner before switching to road races. She has represented Kenya in various races including at the Commonwealth Games.
In May this year, she won the Rimi Riga Half Marathon in Latvia. The 35-year-old has a Half marathon personal best of 1:07.29 and a 10,000m personal best of 31:49.81.
Also Read: Scottish Athlete Denies Kenya Gold in 10,000m, 36 Yrs After Her Mum Won Same Race