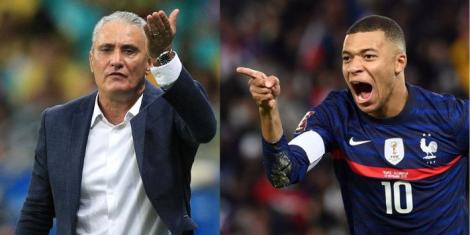 Brazil national team head coach Adenor Leonardo Bacchi popularly known as Tite has dismissed Kylian Mbappe's assessment of his side ahead of the eagerly awaited 2022 FIFA World Cup tournament slated for November 20 to December 18 in Qatar.
The Paris Saint Germain and French sensation had stated earlier this year that Brazil and Argentina struggle to win the FIFA World Cup due to the  lack of stiff competition in South American football.
"Argentina and Brazil don't have that level of competition in South America, the football is not as developed as in Europe, that is why most recent World Cup winners have been Europeans." he was quoted by Mirror then.
Also Read: Matasi: I Would Rather Remain Inactive Than Play For Tusker
No South American team has won the FIFA World Cup since 2002. Brazil were the last team to bag the coveted title when they beat Germany 2-0. 
Brazilian legend Ronaldo Luís Nazário de Lima scored two goals in a space of thirteen minutes in the match which was played in Yokohama, Japan.
European teams including Italy, Spain, Germany, and France have won four of the last FIFA World Cup editions since Brazil's triumph in 2002.
Mbappe helped France to win the latest edition which was staged in Russia. He scored a goal in their 4-2 thrashing of Croatia.
Also Read: Ex-Man City Player Marvels at Kenyan Footballer's Skills
Speaking to ESPN Brazil, Tite argued that they do not play the likes of Azerbaijan and their qualifiers are much more competitive than in Europe.
"Maybe [Mbappe] is talking about these Nations League clashes or European friendlies, but not World Cup qualifiers. We don't have, with all due respect, Azerbaijan to play.
"We don't have anyone that gives you a break. The qualifiers here have a much higher degree of difficulty than the group stage [of European qualifying]." stated Tite.
France and Brazil have been pooled in Group D and G respectively ahead of the World Cup.
The former  will square it out with the likes of African representative Tunisia, Denmark and Australia. Brazil on the other hand will play Switzerland, Cameroon and Serbia.
Also Read: Crystal Palace Defender Receives Death Threats After Nunez Red Card