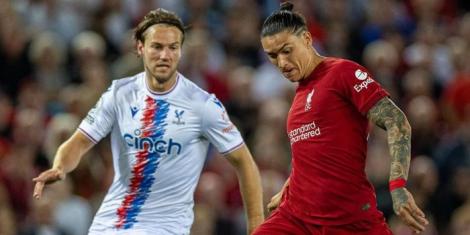 Crystal Palace defender Joachim Andersen revealed that he received death threats after he was head-butted by Liverpool's Darwin Nunez. 
Nunez and the Palace defender were embroiled in an altercation during their Premier League match on Monday, August 15. 
The striker was sent off while Liverpool was 1-0 down. However, Colombian talisman Luis Diaz scored a solo goal to salvage a draw for the Reds. 
Also Read: Brentford Forward Declines French Nationality, Settles For Cameroon
Anderson revealed that fans vented their frustration via Instagram, attacking him and his family. 
"Got maybe 300-400 of these messages last night. I understand you support a team but have some respect and stop (acting) tough online," Andersen stated. 
Nunez's red card will result in a three-match ban further piling more woes on Liverpool who only have striker Roberto Firmino on the bench as Portuguese winger Diogo Jota remains injured. 
Liverpool manager, Jurgen Klopp encouraged Nunez to learn from the incident. 
"A little provocation here and there – and definitely the wrong reaction. A clear red card, I cannot deny that. Yeah, he will learn from that.
"Unfortunately, he has now a few games' time to do so. That's not cool for us in our specific situation, even less, but that's how it is." 
Liverpool has so far garnered only 2 points from 2 games and is 12th in the league standings. 
Also Read: Story Behind Slovakia Football Pitch Hosting a Railway Line