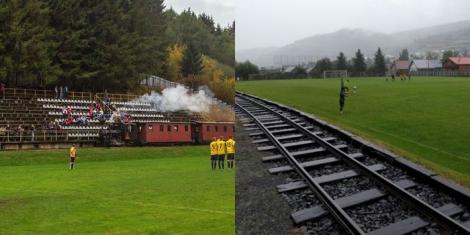 In a football match, a number of things can potentially distract the players during competitions.
In a stadium in Slovakia, a train always makes its way past a pitch during matches in what has been described as one of the most unusual things to happen. 
In a video making rounds on social media, fans are seen attending a game as a train passes through the stadium as the match continues.
Also Read: Why EPL Players Have Agreed to Stop Taking the Knee During Matches
The railway line is stationed between the pitch and the stands where the spectators watch the match from.
The municipal stadium in Cierny Balog is the only stadium in the world that has a live railway track. 
The train passes through the home stadium of Slovakian amateur team, TJ Tatran Čierny Balog. 
The team plays its games next to the railway track that is home to regular trains that pass by the pitch even as the matches go on.
The noise from the train as it makes its way past the stadium and the cloud of smoke it leaves behind does not, however, bother the players who seem used to it.
The town where the train passes is known as Cierny Balog, one of the biggest municipalities that served as a leading centers of the anti-Nazi Slovak National Uprising during World War II. 
The historic narrow-gauge railway was constructed before the football pitch in 1914 with the aim of transporting wood between Cierny Balog and Hronec. 
In 1982, the railroad stopped working, but about a decade later, it was revamped as a heritage railway for tourists. 
Also Read: Napoli Owner Aurelio de Laurentiis Won't Sign African Players Due to AFCON