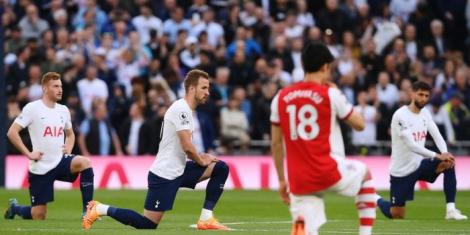 English Premier League (EPL) players will no longer take a knee before each game during the 2022/2023 season which kicks off on August 5. Instead, they will use specific moments during the campaign to promote the message of racial tolerance and equality.
The players began taking the knee in May 2020, in support of the Black Lives Matter movement. National Football League (NFL) players, Colin Kaepernick and Eric Reid were the ones who started the gesture in 2016 in protest of racial inequality.
EPL captains reached the decision after a thorough consultation with the players in their respective clubs.
Also Read: Napoli Owner Aurelio de Laurentiis Won't Sign African Players Due to AFCON
"Ahead of the new season, Premier League club captains have reaffirmed their commitment to fighting racism and all forms of discrimination. 
"The players have decided to use specific moments during the upcoming campaign to take the knee, to amplify the message that racism has no place in football or society," read a statement from the Premier League.
The Premier League captains also released a joint statement stating that they remain committed to eliminating racism.
"We have decided to select significant moments to take the knee during the season to highlight our unity against all forms of racism and in so doing we continue to show solidarity for a common cause.
"We remain resolutely committed to eradicate racial prejudice, and to bring about an inclusive society with respect and equal opportunities for all," read the joint statement.
Also Read: Man United Stars Among Most Abused EPL Players - Twitter Analysis Report
According to the Premier League, players will now only take the knee on special occasions such as cup finals and during boxing day matches.
"Players will take the knee during the opening match round of the season, dedicated No Room for Racism match rounds in October and March, Boxing Day fixtures following the conclusion of the FIFA World Cup Qatar 2022, Premier League matches on the final day of the season and The FA Cup and EFL Cup Finals," added the Premier League statement. 
Crystal Palace forward Wilfred Zaha stopped taking the knee last year, arguing that it does not help in the fight against racism. Clubs like Derby County and Queens Park Rangers also stopped the gesture in 2021.
Arsenal and Crystal Palace will open the 2022/2023 EPL campaign on Friday. The match which will be played at Selhurst Park Stadium will kick off  at 2200hrs East African Time.
Also Read: Major Boost for Pogba Ahead of 2022 FIFA World Cup