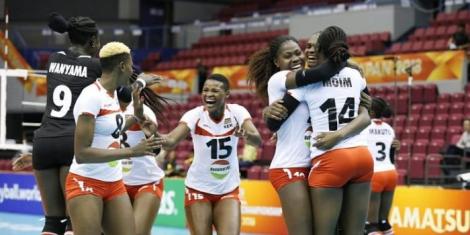 Brazilian Tactician Luizomar de Moura, has advised Malkia Strikers to avoid making stupid mistakes in their friendly matches in Serbia. 
The Kenya Women's national team will take on Red Stars on September 17, in a friendly match in Serbia to weigh their skills. 
Moura, the head coach of the Brazilian Team Osasco Volleyball Club and is among the Brazilian tacticians that are helping Malkia Strikers head coach, Paul Bitok in training. 
Also Read: Malkia Strikers Ask Ruto for Help Ahead of World Championship
"In those two matches we are playing here in Serbia it would be very important for the team to avoid stupid mistakes. When we make mistakes, we are giving away to our opponents the points we need to be scoring.
"This is what we need to have in mind in order to have better results in the future," Luizomar de Moura noted," Luizomar noted. 
Assistant captain Noel Murambi noted that the team needed to work as a unit and follow the advice from the technical bench in order to win. 
"European players are mostly tall players so when you play against them you know that you are going to play against long blocks. 
"They also have good services, defence systems at the backcourt. 
"Working on our side we shall not like attack balling side and we will use our technical skills that the coach has taught us. Maybe we shall use touch out and also make sure that our services are strong," Noel Murambi added.  
Malkia Strikers head coach Paul Bitok added that winning the two friendly matches in Serbia will boost the team's morale ahead of the world championship. 
"I believe that the players are used to this kind of matches level having played ten friendly matches in Brazil. The technical team has put more emphasis on making sure they follow what we have taught them. 
"If we get the two wins in these friendly matches in Serbia it will boost our morale for the competition," Bitok added. 
This is the first time the women's national volleyball team has trained outside the country for more than two months.
Also Read: Malkia Strikers Enjoy Months of Unga Supply in Brazil