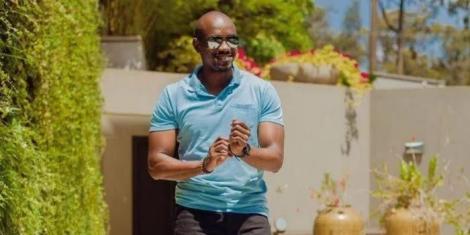 Nation Media Group (NMG) has tapped into the expertise of Bernard Ndong while launching a new sports show targeting its viewers and listeners. 
The former Citizen TV anchor will host the new show, Sport-On, which will air on NTV from Monday, September 19 at 10 pm. 
Ndong will also be the main presenter of the show's radio version set to be unveiled on Nation FM. The radio version will air on Saturdays from 3 pm.
Also Read: Bernard Ndong Joins NTV After Exiting Citizen TV 
Sport-On trailer released on Saturday, September 17, indicated that Ndong will cover local and international sports activities ranging from soccer, basketball, rugby, athletics, e-sports and other sports disciplines. 
He will also conduct real-time interviews with athletes who have made a mark in different disciplines.  
The new NTV show further intends to empower viewers on the importance of improving mental health, managing weight, reducing disease risk, and strengthening bones and muscles through physical exercises. 
Ndong will kick start his radio profession to complement anchoring news, hosting shows in an illustrious careers spanning 13 years.  
The celebrated media personality was unveiled at NTV to host a newly launched show, The Big Signing on Saturday, July 23. 
Ndong, a Daystar University alumnus, began his career as intern at KBC in 2007. He then joined Royal Media Services (RMS) as a salesperson before he was nurtured by veteran sports anchor, Mike Okinyi. 
Under Okinyi's tutelage, Ndong rose from the desk to one of the best sports anchors in the country.  
One of his biggest career highlights is covering the 2014 World Cup in Brazil. Ndong is also a fitness enthusiast. 
Also Read: Kenyans Who Lost Money in Search of World Cup Jobs List New Demands