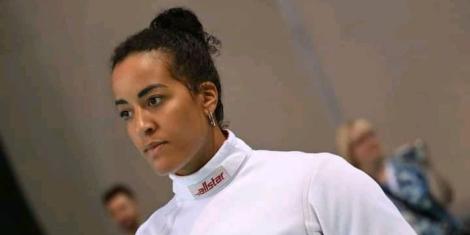 Alexandra Ndolo, a fencing athlete, has announced that she will be now donning the Kenyan colors after representing Germany for 15 years.
The 36-year-old described the decision as the most difficult one of her impressive career.
"From this season on I will be fencing for my late father's home country Kenya. This has been the most difficult decision of my fencing career.
Also Read: Alexandra Ndolo, the German with Kenyan Roots Making Waves in Fencing
"To everyone who has been part of my journey in the past 15 years as a fencer for the German Fencing Federation, as an athlete for DOSB, as a member of the German Army's sports division, as an athlete being supported by Deutsche Sporthilfe, Thank you," read her statement.
Ndolo added that she cannot wait to represent Kenya and make the millions of Kenyans proud.
"To my new sports family from Team Kenya and the Kenya Fencing Federation.
"I can't wait to go on this journey with all of you together! I can't wait to meet even more of you and fight for glory alongside all of you.Let's make Kenya proud! Mimi  ni Mkenya, na sisi ni Waafrika -I am Kenyan and we're Africans," she stated.
Ndolo is a left-handed fencer who has accomplished a lot in  her amazing career. She won a silver medal at the 2022 World Fencing Championships staged in Cairo, Egypt between July 15 and July 23.
At the 2019 European Fencing Championship, Ndolo bagged a bronze medal for Germany in the women's category. 
Prior to that, she had clinched a silver medal at the 2017 European Fencing Championship.
Fencing is a combat sport that involves the use of swords. The sport can be played by individuals of any age and it also offers a lot of benefits to participants.
The sport is both a mental and physical workout and thus it helps to build agility, physical endurance and accuracy. The weapons that athletes use in Fencing include foil, epee and saber.
Alexandra's late dad Donal Ndolo was a Kenyan while her mother is from Poland. His father met her mother while undertaking a master's degree in Poland.
Despite featuring for Germany, Ndolo was involved in numerous projects in Kenya including helping teenage girls from Huruma, in Nairobi to take part in the novel sport.
Also Read: 6 Kenyans That Could Be Sports CS in Ruto's Govt