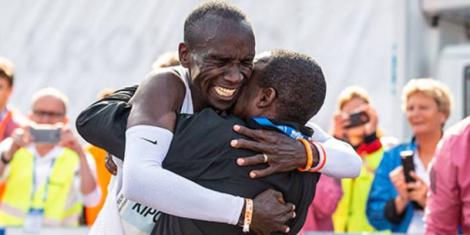 Eliud Kipchoge is back in a familiar town, Berlin in Germany, where he set the Word Record in 2018. 
The 37-year-old marathon runner has enjoyed both highs and lows in the town. In 2013, he finished second with a personal best behind fellow compatriot Wilson Kipsang who set a new record. 
A year later in 2014, Kipchoge fell short of the pole position by eight seconds finishing second once again behind Dennis Kimetto who set a new world record. 
"It seemed that it was impossible to the world that it would take forever for a human being to break the world record, but when I ran 2:03:05, and I missed it by eight seconds I told myself I would go for Kimetto's world record," Kipchoge stated. 
Also Read: Kipchoge's Training Technique Ahead of Berlin Marathon
Kipchoge, later in 2018 broke the world record with a time of 2:01:39. 
The Berlin record holder noted that he believes that if one trains well nothing could interfere with an athlete's level of fitness. 
"If you train well then nothing can interfere with your fitness, of course, although the sole is the shoe itself, but if I do not feel anything I just start to push and push on and I managed," Kipchoge added. 
Winning the 2018 Berlin Marathon, Kipchoge stated, equalled doubled blessing as he not only won gold but also set a new world record. 
Kipchoge had trained for five months for the 2018 Berlin Marathon noting that his famous celebration at the finish line with his team was to show the world that no one can achieve such a milestone alone. 
The crowd's chant also motivated him to succeed. Kipchoge predicted that he would set a course record in Berlin in this month's edition if he does not break his own record. 
"I believe that I can still run a course record if not a world record. I do not know which one will come in but I will call it a course record," Kipchoge stated.
He also described the Berlin Marathon as a smooth course and with the good training he has had, his muscles will adapt and make him run faster and longer. 
The weather, however, was the most common disadvantage all athletes face according to the legendary Kipchoge. 
"When it's raining even in the morning, I just put on my clothes and my rain jacket and move on. I am not the only one that is affected by the weather. Actually, all of us in the race are disadvantaged," he added. 
Kipchoge arrived in Germany on September 20 and will seek to defend his record on Sunday, September 25.
Also Read: 2022 BMW Berlin Marathon Medal to Have Kipchoge's Image