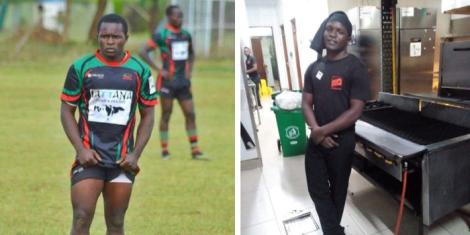 It is usually believed that women are better than their male counterparts at multitasking in certain cases.
However, the inspiring story of Benedict Sakali, a professional musician, chef and rugby player will make you think otherwise.
TeamKenya.co.ke had an exclusive interview with Sakali on Monday, September 26, 2022 and learnt more about his life journey and how he manages to balance between music, rugby and being a chef.
Also Read: Top 5 High Schools That Have Produced Rugby Stars
Sakali was born in 1994 in Kaimosi, Western Kenya. At a tender age, he moved to Nairobi alongside his family and began his education at Waruku Primary School in Kangemi.
While in school, Sakali played football - he represented his alma mater up to the provincial level.
Sakali later dropped football and embraced rugby when he joined Muvuti Boys High School, a learning institution located in Machakos County.
His talent was there for all to see, and thus while still pursuing his post primary education, Sakali got an opportunity to play for Mount Kenya University and Nairobi Stingers Rugby Clubs before being incorporated into the Shamas Rugby Club.
"In 2016 during Masaku 7s, I was named the man of the match in one of the matches and given a medal. I was also the best player in Machakos County from 2015 to 2017 owing to the number of trophies I received," he revealed. 
Sakali, who was raised by a single mother alongside his other four siblings, ventured into Gospel music in 2019.
"I started music in 2019 after the death of my mother. Things were hard for me, but God gave me strength. I recorded my first song, Pokea Sifa that year.
"The same year, God also opened a way through Shamas Foundation Rugby Club. They found a job for me in the Big Square restaurant. I have risen through the ranks to become a chef master," explained Sakali.
In June 2022, he dropped another song titled Nararua Moyo and he is planning to release another one this coming October.
When asked about how he manages to balance between playing rugby, cooking and music, the 28-year-old disclosed that time management is key.
"At our restaurant we have two shifts. For example, on Monday I work in the morning shift from 8am to 3pm. I usually attend rugby training between 4pm and 6pm. We train for three days in a week.
"During my off day, this is the time I go to the studio and record my music" concluded Sakali.