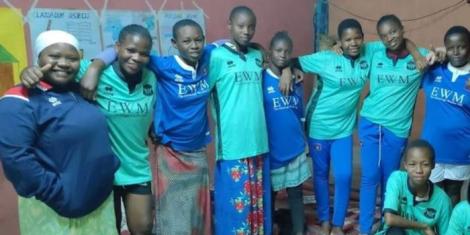 Carlisle United, an English-based football club has partnered with other stakeholders to help children from poor backgrounds in Taru, Coastal Kenya.
Amy Nixon, Carlisle United press officer confirmed that the club made donations to ease the lives of Children in the region.
"We look to send kits and clothing to Africa every summer, and this was a perfect charity to support as far as we were concerned.
Also Read: FIFA Announces Last Minute Sale of World Cup Tickets
"Paul told us about the children and families in Taru, and we wanted to help. We could when he came to collect the bags that it was going to make a huge difference, and it's fantastic to know that we have helped a very worthy cause and some wonderful people," stated Nixon.
According to Nixon, some of the items that were handed over to the kids were donated by Carlisle United supporters.
Paul Moffat, a Carlisle United fan who resides in Kenya thanked the club for the act of kindness towards the kids.
"Thank you so much for your support. It can't be put into words just how much it means to everybody over here, particularly the children, who are now proud to be United supporters," read his statement.
The children are under an organization known as The Future of Taru Project, an United Kingdom-based initiative. 
The charity organization provides emotional support, quality education and feeding programmes to hundreds of youngsters.
It also offers a safe haven for disadvantaged children in the region to prevent them from engaging in vices such as drug abuse.
Carlisle United competes in the EFL League two, a fourth tier league in England. The club which is coached by Paul Simpson is set to play Grimsby tonight.
Also Read: First African Nation to Score Against Brazil in World Cup