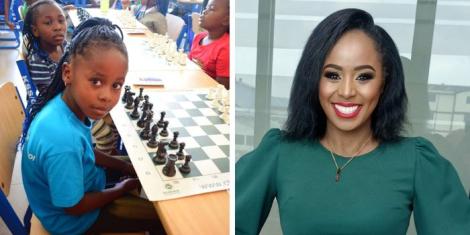 Everyone has hopes and dreams in life and some individuals get to attain them while others fail due to various reasons, among them lack of support and motivation from their loved ones.
There is a norm in most third world countries particularly in Kenya where some parents tend to discourage their kids from pursuing ambitious dreams.
Such parents prefer their kids to follow traditional, often hyped and what appear like high-flying career paths that lead to white collar jobs.
Also Read: World Chess Champion Magnus Carlsen Accuses Rival of Cheating
However, not all children have parents who struggle to adjust with the change of time.
Brielle Wanjiru Wahinya, the daughter of KTN News anchor Agnes Gakunga is among the few lucky ones who have supportive parents.
Wanjiru is not your ordinary child. Unlike other kids who prefer to play everyday games like Escape the Lions, Safari and Fix the Reserve, she chose to be involved in a sport that entails rigorous intellectual challenge.
In an exclusive interview with TeamKenya.co.ke, Gakunga narrated the inspiring Chess journey of her eldest child.
According to Agnes, Wanjiru's interest in the game was noticed at a very tender age - while she was still in Grade one.
In most families, when children are asked what they would want to engage in their adult life, most of them normally give the careers of their parents or people close to them.
Wanjiru's story is different - even prior to the introduction of the Competency Based Curriculum (CBC), she knew what she wanted to do in life.
Brielle got interested in a sport that no one close to her plays or used to play during their childhood years.
In fact, Gakunga, who describes her daughter as a positive and optimistic person, used to engage in entirely different games while in school.
"While at high school I used to do athletics and football, but at primary school I was the village champion in catty," she stated while smiling.
Also Read: Ruto Appoints Ababu Namwamba as Sports CS
Despite being just 8-years-old, Wanjiru is trying to recruit some members of her family to play the board game.
"She is the only Chess player in the family but she is training her younger brother Curtis Gatlin Wahinya aged 6 who has shown interest in the game," disclosed Gakunga.
The Mother Danila Primary School pupil has participated in various tournaments across the country, bagging a number of certificates.
Brielle's mother, who describes her as positive and optimistic, told us that her daughter's goal is to represent the country in international competitions.
"Wanjiru has four certificates for which she displays proudly. She participated in Kiambu regional qualifier where she qualified for the National Junior Chess Championship held in Mombasa in April this year.
"Eldoret National Youth Chess Championship held this month was the second national event she ever participated in. Brielle is aiming to represent Kenya in Africa and beyond," she revealed.
When asked about how the family supports Brielle to follow her dream, Gakunga replied that they go out of their way to make sure she takes part in various competitions.
"As her parents, we always ensure she participates in various tournaments especially in Nairobi and Kiambu. She also plays the game online chiefly on phone so that she can learn various moves and also to practice what she is taught by her Chess Coach.
"Her Chess board is her best friend and we have taught her now how to always take care of it," ended the University of Nairobi alumna.
Also Read: Know Your Game - Chess