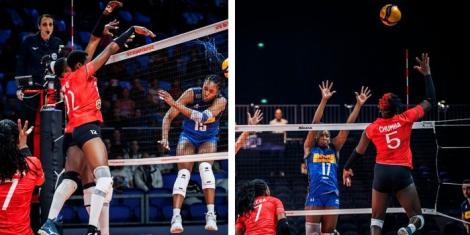 Malkia Strikers suffered a loss against European champions Italy in their fourth match at the 2022 FIVB Women's World Championships. 
Kenya's vice-captain Chumba picked up a game-high 17 points for Malkia Strikers as Sylvia Nwakalor was Italy's best player with 12 points. 
With the result on Thursday, September 29, Malkia sits fourth in the standings with three points from one victory.
Also Read: Malkia Strikers Whitewash Cameroon in World Championships
The Kenya national volleyball team will need a win against Puerto Rico to seal a place in the quarter-finals. 
Kenya has registered only a single win in their pool defeating African champions Cameroon by straight sets. 
The Malkia Striker will play Puerto Rico in their last pool match on October 1.  Puerto Rico has failed to register a win at the tournament. 
In seven appearances at the championship, the Malkia Strikers have only registered a total of two wins. 
Paul Bitok, the Malkia Strikers head coach in the match that lasted for one hour and 17 minutes, chose to give skipper Mercy Moim, Edith Wisah and Lorine Chebet a rest. 
Bitok prior to the match noted that he benched some of the best players as they had a slim chance to beat Italy and their main focus will be against Puerto Rico.
Also Read: We Had to Earn Our Respect- Malkia Strikers Captain Speaks After Thrashing Cameroon