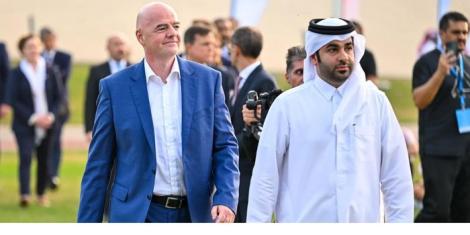 FIFA president Gianni Infantino accused the European nations of hypocrisy in criticising the decision to have the World Cup in Qatar. 
Infantino, speaking during the World Cup opening Press Conference on Saturday, November 19, defended the choice of having the tournament in Qatar. 
Among the issues, various stakeholders raised were the death of migrant workers and the treatment of the LGBTQ society in Qatar.
Also Read: World Cup Organisers Make U-Turn on Alcohol Sale
Infantino noted that European nations should apologise for their past acts rather than give advice on morality. 
"I am European. For what we have been doing for 3,000 years around the world, we should apologise for the next 3,000 years before giving moral lessons. 
"If Europe really cares about the destiny of these people, they can create legal channels, like Qatar did, where a number of these workers can come to Europe to work. Give them some future and hope," Infantino stated. 
The FIFA boss expressed his difficulty in understanding why there was too much unnecessary criticism, yet there has been some positive progress since 2016. 
Infantino noted that no one is perfect and changes take time to be affected, adding that Qatar was ready to host the tournament.  
"I don't have to defend Qatar; they can defend themselves. I defend football. Qatar has made progress and I feel many other things as well," Infantino added. 
The FIFA World Cup Qatar 2022 will kick off on Sunday, November 20, with the host nation playing Ecuador in the opening fixture.
Also Read: FIFA's Infantino Thanks Federations Backing Him for Another Term