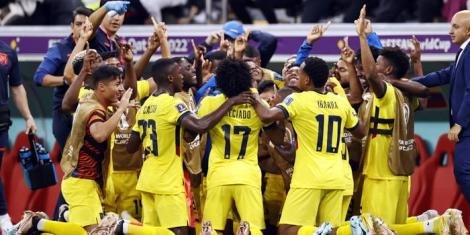 The Qatar national team broke two records in the opening match of the 2022 FIFA World Cup staged at the magnificent Al Bayt Stadium on Sunday, November 20, 2022.
For the first time in 92 years, a hosting nation was defeated in the opening game of the tournament.
Every country that has hosted the world cup in the past 10 decades including South Africa either won or registered a draw in their first match.
Also Read: World Cup: Kenyan Security Guard Narrates Inhumane Conditions He Faced in Qatar
Of the 22 nations that have hosted the World Cup in the past, six of them registered a draw while 16 emerged victorious in their opening matches. 
In addition, Qatar became the first hosting country since the 1994 edition held in the United States of America (USA) to fail to register a single shot on target in the entire game.  
The above statistics show how South American representatives Ecuador dominated the match, netting two goals in the first half which were enough to earn them three vital points.
Ecuador's skipper Enner Valencia bagged a brace to increase the chances of his country proceeding to the knockout stages.
The Fenerbahçe forward could have had a hat-trick in the one-sided encounter, but his earlier goal was rightly ruled out for offside by the Video Assistant Referee (VAR).
Despite the win, Ecuador still have to pick up points from the group's favorites, the Netherlands and Senegal, who will open their campaigns on Monday, November 21, at 7pm East African Time.
Senegal, the 2022 African Cup of Nations (AFCON) champions, will be without their talisman Sadio Mane who has been sidelined due to an injury.
The Dutch, on the other hand traveled to Qatar without their dependable midfielder Georginio Wijnaldum.
Georginio was also ruled out after suffering a nasty injury during AS Roma's training session a few months ago.
Also Read: How FIFA Will Protect Players From Abuse at Qatar World Cup