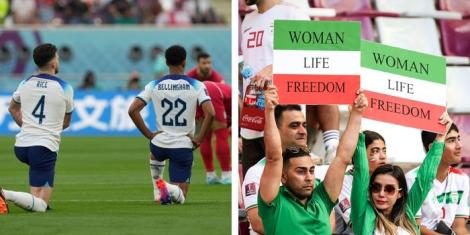 The highly anticipated FIFA World Cup Qatar has lived up to the hype as the global phenomenon entered its second day. 
On Monday, November 21, the three fixtures were full of drama on and off the pitch. Prior to the matches, FIFA issued a directive to the teams who were planning to wear one love armbands to show solidarity with the LGBTQ society.
The teams were cautioned on wearing the armbands as they risked facing sanctions and receiving yellow cards. 
Minutes before the England, Iran fixture the World Cup app crashed making it hard for fans to access the stadium as their digital tickets vanished. 
Also Read: Enrique Márquez: Meet 88-Yr-Old Journalist Who has Covered 17 FIFA World Cups
The Three Lions, however, took a knee before kick-off. 
Reports indicated that some fans who had won outfits with rainbow flags were not allowed to enter the stadiums. 
BBC Sports Commentator Alex Scott was also seen in the stadium donning the one love armband. 
Further, another incident saw Iran players remain silent during their national anthem as their fans booed. They did so in protest of Iran's government. 
Matchday two saw Group A and B teams finishing their opening fixture.  
Top of group A is the Netherlands team which tied with six points with second-placed Ecuador with Senegal and Qatar followed at third and fourth respectively with no points. 
England tops Group B followed by Wales and USA with a single point each. Iran is at the bottom of the group without a point.  
Also Read: Records Broken by Qatar in World Cup Opener