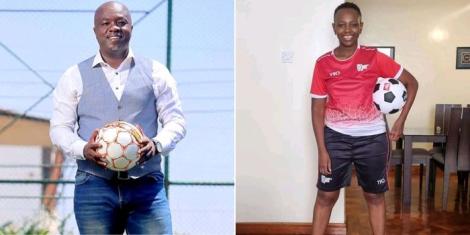 Sports journalism in Kenya has registered rapid growth, particularly in the last two decades.
Some of the journalists had dreams of hosting sports shows or writing articles about the sector while others entered into the profession by chance.
A good example of a media personality who never imagined he could work in one of Kenya's most popular media outlets is Radio Jambo presenter Fred Arocho.
Also Read: Schools Top Kenyan Sports Journalists Attended
In a recent interview, Arocho disclosed that he joined the media industry by a mere coincidence.
According to the veteran journalist, his rise to stardom was facilitated by former Classic 100 presenter Carol Radull by helping him get his first job at the Radio Africa Group.
"I have been in the industry for some time now, first as a player for KCB. I was part of the team that brought KCB into the premier league in 1997.
"I joined the media through a very funny coincidence. It was a match at Nyayo stadium, where Mathare United was playing Gor Mahia. So I attended that match and incidentally, Carol Radull also attended the match with some fans and there was an issue that brought that game to a halt.
"I was very vocal with my argument as to what stopped the match and Radull was seated close to me. She asked me, "Well, can I have your number so that we can discuss the issue that stopped the match on my show?," he revealed.
Arocho accepted the offer and went on to be interviewed by Radull.
"During her show, she called me live on radio and I explained the reason I thought the referee's decision was wrong and she liked my argument.
"A week later she called and told me Radio Africa was starting a new station called Radio Jambo and asked if I would like to join the team and become an analyst.
"Well, I took the challenge and the rest is history. Apparently, my interview was done in English. For the first week, Radio Jambo was an English station. Many people might not remember but it was an English station. So I joined and we did our first show in English, then it turned to Swahili.
"I am so proud that it has turned into a big station. I call it success because I put a lot of hours into my content," he added.
The father of four further explained what the sport's journalism profession entails.  
"What we talk about on radio is not something you just wake up and talk about. You prepare. It is a lot of preparation 
"For me, preparation for radio is something that I do 24 hours a day. As I walk, play, and relax," divulged the Pumwani High School alumni.
When asked about his observation on the Kenyan football industry, Arocho blamed the government for challenges affecting the local athletes.
"As a stakeholder, I would like to challenge the government to invest more in sports. When you invest in infrastructure, you will produce good players and ultimately the sports eco-system will flourish.
 "At the moment, we have very few stadiums. I think it is choking the industry. We are not producing our full potential in athletics.
"Look at the stadiums that are in Eldoret. If someone wants to train, where would you go for training? The government has really let us down," ended Arocho.
Also Read: How Stephen Mukangai Rose From Toilet Cleaner to Top Sports Journalist