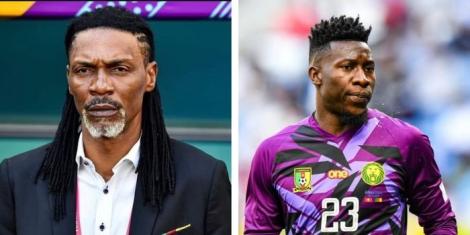 The Cameroon coach responded to a leaked video explaining why Andre Onana was dismissed from the World Cup. 
In the video released on Thursday, December 8, the Indomitable Lions coach explains that he argued with the goalkeeper during training, which led to his exclusion from the squad. 
Song, through his Instagram page on December 8, noted that the video was recorded without his consent. 
"In the excerpt shot yesterday without my knowledge at my house by a third person who came to accompany my older brother, I interviewed the latter, who wanted to have more details on the exemption of the starting goalkeeper of the Indomitable Lions at the Qatar 2022 World Cup on the eve of the match of November 28 against Serbia. 
Also Read: Portugal Clarifies Reports of Ronaldo Threatening to Leave World Cup Camp
"I was far from imagining that my interlocutor and I were filmed for further purposes by the third person who was at a good distance from us in my office," Song explained. 
Song added that he believed the leakage of the private conversation was meant to taint his honour as the manager of the Indomitable Lions. 
He added that the situation required him to make an important decision in the group's interests. 
The 46-year-old coach added that he would be taking legal action against the perpetrator behind the video's release. 
"I reiterate my unshakable attachment to the Indomitable Lions label and respect for the values and principles that guide it," Song noted. 
Cameroon was bundled out of the FIFA World Cup Qatar despite winning their final group stage match against Brazil, finishing third in the group.
Also Read: Algerian Man Beaten up by Samuel Eto'o in Qatar Speaks