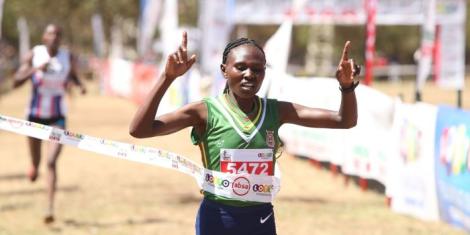 2019 World Marathon champion, Ruth Chepngetich, produced two amazing runs at the Kenyan Cross-Country Championships winning two titles in a space of one hour. 
The race - which is part of the World Athletics Cross Country Tour Bronze event - was held at the Kenya Prisons Training College in Ruiru on Saturday, January 21. 
Chepngetich, who races for the Kenya Prisons Service, dominated the senior women's 10km event before leading her team to win the mixed relay.
Also Read: Daniel Wanyama Warns Athletes, Reveals Secrets to His Success
Kenya will use the event to select national runners for the Sirikwa Classic, another World Cross Country Tour Gold meeting in Eldoret on February 4, 2023. 
Chepngetich, who led the world marathon in 2022 last with 2:14:18 (the second-fastest run in history) won the 10km event in 32:56. 
Less than an hour later, Chepngetich returned to the course where she took part in the mixed relay.  
She was handed the baton for the last leg, where she overtook several runners and came through to win her second title of the day. 
In a senior men's race, Charles Katul Lokir crossed the finish line first to win the race in 29:16. 
The 22-year-old will now turn his attention to the Sirikwa Classic on February 4 noting that he would love to take a podium position then. 
In the U20 men's 8k race, Samuel Wanjiru emerged victorious noting that he missed the previous trials as he had traveled to Japan. 
Mercy Chesang, a first-year University of Nairobi Sports Science student, won the U20 women's 6km race. 
Also in attendance was five-time world cross-country champion Paul Tergat, who was announced as the ambassador of the 2023 World Cross Country Championships. 
Tergat noted that it was a huge honour to be named as an ambassador for the World Cross Country event. 
"It shows that the world sees what we have done for the sport. We have huge potential in terms of talent in the future. I can see Kenyans continuing to dominate the cross country and perhaps win more titles than I did," Tergat noted.
Also Read: Kipchoge, Kipyegon Bag Sports Personality of the Year Awards