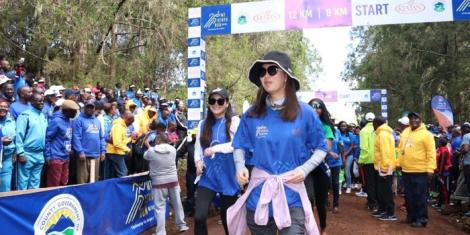 Meru County will be host the much anticipated Mt Kenya mountain Run scheduled to take place on February 26.
According to the event organisers, the race will raise money to support environmental conservation and create awareness of the high prevalence rate of cancer. 
With the deadline, willing participants are advised to register via https(colon)//t.co/883gnnWOTj.
Also Read: Over Ksh 1.8M up for Grabs in Mt Kenya Mountain Race
"The registration fee for the race is Ksh1,000 for individual athletes, Ksh500 for Junior Runners (Age 18-20yrs). 
"Corporate organisations will register with Ksh50,000 for a group of up to 10 people," read part of the statement by the organisers.
Among the key details required are one's name, email, phone number, gender, locality and  Category of participation.
Once payment is made, one must paste the confirmation code on the registration form and notify whether they have ever participated in another run.
Participants will register for either of the four categories, including Men and Women Elite Team (13km), Fun Runners (13km), Men and Women Junior Runners, and Men and Women Keep The Doctor Away Run.
Each category has prize money except for the Men and Women Keep the Doctor Away Run, as it is a wellness run for veterans and guests. 
Winners from the Men and Women Elite Team will get Ksh500,000 as the first and second runners-up receive Ksh300,000 and Ksh100,000, respectively.