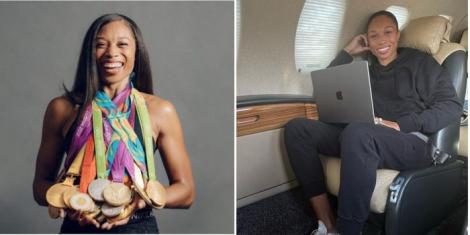 Allyson Felix, one of the greatest female runners of all time, has revealed that she hates the 400m race because it is very tactical. 
The 37-year-old started her career as a 200m runner in 2003 before trying her luck in the 400m race in 2013.
She went on to win a gold medal at the 2015 IAAF world championships staged in Beijing, China.
Also Read: Legendary American Athlete Allyson Felix Ends Career With 11 Olympic Medals
However, on Monday, February 27, 2023, Felix stated that she did not entirely enjoy competing in the category. 
According to her, being in fine form does not guarantee a runner's success in the one-lap race. 
"The thing I hate about the 400 is that you can be in the best shape of your life but if you don't put the race together strategically and execute it perfectly, then it doesn't matter.
"Crossing the line in the 400 is just like complete exhaustion. Usually, before the race, I always locate a spot where I can be out of camera view and lay down," commented Allyson.
Despite the revelations, the seven-time Olympic Games gold medalist credited the 400m race for making her career last longer.  
"Stepping up and running the 400, really gave me longevity. You know, the sport pushed me to do something different that I hadn't really explored too much before," ended Felix. 
Felix will go down in history as one the most decorated sprinters, having won everything there is to win.
The American international amassed an unmatched 14 world championships titles and seven Olympic gold medals before exiting the scene in July 2022.
Also Read: American Olympian Allyson Felix using her Platform for change