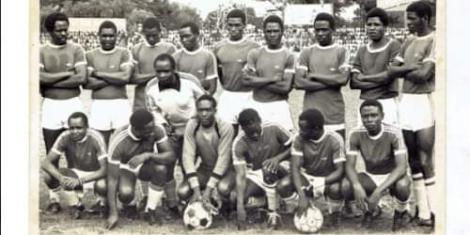 Maragoli FC was the oldest football club in Kenya having been formed in 1935. It was the first team from Kenya to tour Europe in 1977.
The 1960's and 70's witnessed an addictive social subject of commentary among youths and men. It was football. Western Kenya was the hub of it all. 
There first were two local teams - Andimi FC of North Maragoli and Mungoma FC of South Maragori. These two teams would produce players for Maragori FC who would now compete outside evorogori. To Nyanza, Mombasa, East Africa and for exposure, overseas. 
Maragoli FC was based in Nairobi. Young talented players would be sourced from secondary schools. Mwenesi, Onamu and Agufa, for example, were sourced from Musingu, Chavakali and Upperhill respectively. The players played for fun and fame. Money was not in the picture. 
It is interesting that Onamu (a Saniaga down at Dr. Dangana Secondary School, Tiriki West) is said to have been of quick speed and strong arms that opponent strikers like the famed Masiga would least outwit him, a threat as he was. 
If you would be tricky he would be speedy, if forceful a barrier. Defender number 5, unopposed. The last man standing before the goalkeeper (Keya) was threatened. 
And the living players (some are deceased like Joel Kadenge) remember the two month 1977 Holland football tour as if it was yesterday. 14 players, strictly, boarded a plane at the Old Embakasi airport to Holland, when boarding a plane. 
Kadenge by then was an experienced player, having made contacts here and there. In fact the Holland trip was by good luck because it happened when he had left Abaluyia FC and back to his home team, Maragoli FC. A friend of his had organized for it, players only being asked to raise their ticket money, accommodation would be provided. 
When they arrived in Holland they were paired in homes, each friendly home hosting two. Moi would also help by giving about Ksh 6,000/- to the team for the fare. 
After 2 months in Holland, the land God did not make but man, the Maragoli sons were treated to other mid-shifting ideals in determination and good organization that when they came back it was a transformed team. They were able to beat any club at will, with a reminisce of 6-0 from Ajax FC. 
Not Gor Mahia, not Abaluhya would tremble them. There is even a newspaper record, 'Agufa sinks Abaluhya' when he scored a hat trick at the present Nyayo Stadium. 
Fame would follow thus and Maragori from Eastlands would meet and drop a few coins in his hands. It was 25 cents to commute to areas not far from the CBD by then. The number 9, terrible opponent, of the days. A grandson of Saul Chabuga. 
So it would become when sons of men kept being born on Earth that things changed. What was a source of pride and valour became 'tribal and discriminatory'. Those who were volunteering to play entered those who wanted pay due to changing times. From Maragoli FC to Imara FC, playing with psychology. From there to shambles. It was good. 
But with regretful memories that they could have pursued 'permanent' goals. Football ends at 34. Then? Those who had failed in school would later have it hard in life. And such unsustainable football talent exposition in Kenya.Soon later, Maragoli FC was allowed to merge with others and become AFC Leopards.