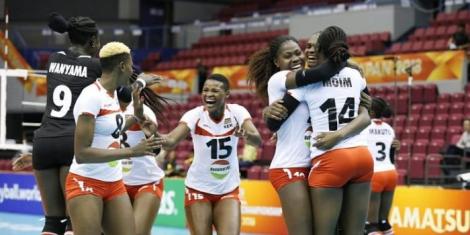 The national women's volleyball team, Malkia Strikers, has received a sponsorship of Ksh10 million just hours after pleading with President Uhuru Kenyatta to support them financially.
The deal was sealed on Friday, June 17, between a betting firm and Kenya Volleyball Federation (KVF) and will cover the 2022-2023 season.
The sponsorship deal will help the volleyball team, which has been crippled financially, to meet some of its immediate needs. The sponsorship package will include a week-long training camp in Serbia in September where Malkia Strikers will play friendly matches against world champions Serbia and Colombia as part of their preparations for the World Championships scheduled for September 23 to October 15 in Poland and the Netherlands.
KVF President, Waithaka Kioni, while appreciating the betting firm, noted that the sponsorship will go a long way in enabling Malkia Strikers honour some of its scheduled matches.
"We are confident this partnership will work and will hopefully be extended for a much longer time," he stated.
Malkia Strikers coach, Paul Bitok, explained that the deal will boost the morale of the technical bench and players ahead of the championship.
"It is a great relief for the whole team and I am happy that this beautiful game has caught their attention. The sponsorship is a game-changer for Malkia Strikers," Bitok remarked.
The group had earlier reached out to President Uhuru to help them offset some of their bills and help them honour their matches abroad.
"We are stranded and we don't know what will happen because we were supposed to leave on Saturday morning. Training has stopped today because our fate is not known. We don't know if the World Championships will be affected as well," Bitok explained.
"His Excellency President Uhuru Kenyatta celebrated with us in Mombasa after we came back from the Olympics and promised us we will not have problems again. I hope he will remember this and keep his promise and talk to the ministry to give us funding for this trip."
Malkia Strikers are set to travel to Brazil for a two-month high-performance camp to take part in World Championships.
Kenya Volleyball Federation vice chair, Charles Nyaberi, had earlier stated that Malkia Strikers needed Ksh46 million to facilitate their trip to Brazil and enable them to participate in World Championships.