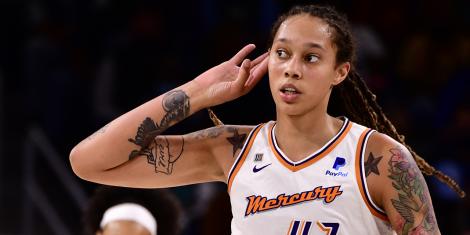 United States (U.S) basketball player and two-time Olympic gold medalist Brittney Griner has been released by Russia in a prisoner swap. 
The basketballer was arrested on February 17, in Russia at the airport with a vapouriser containing cannabis. 
According to a statement by the Russian foreign ministry on Thursday, December 8, it was noted that Griner was released after the United States of America (U.S.A) released a Russian arms dealer, Viktor Bout. 
Also Read: Ex-Refugee Credits Kenya for Shaping Her Career as Toronto Raptors Recruiter
U.S. President Joe Biden confirmed the news through his social media account. 
"Moments ago, I spoke to Brittney Griner. She is safe. She is on a plane. She is on her way home,' Bidens Tweet read. 
President Biden together with his Vice Kamala Haris spoke with Griner on the phone with the latter's wife present in the Oval office. 
In the past few weeks both Russian and U.S. officials have met to solve the matter with Biden reassuring of a possible deal back in November 2022. 
Biden was under pressure to authorize the release, of the Russian felon nicknamed "the Merchant of Death". 
Viktor Bout is a former Soviet Army lieutenant colonel who was once described as the world's most prolific arms dealer by the Justice Department. 
Before his release Bout was serving a 25-year sentence on charges that he conspired to sell weapons that were to be used against Americans.
Also Read: Russia Sentences US Basketballer Brittney Griner to 9 Years in Prison