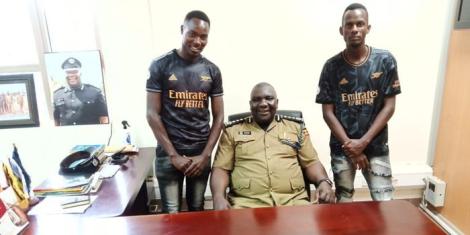 Uganda Police Force Spokesperson, Fred Enanga issued a condition that Arsenal fans in the country should meet when celebrating.
This is after close to 20 fans from Jinja were on Monday, January 23, arrested for taking part in a trophy parade following Arsenal's 3-2 victory over Manchester United on Sunday, January 22.
Through a statement on Twitter on Wednesday, January 25, the police spokesperson advised Arsenal fans to communicate with the police before their celebrations.
Also Read: Ugandan Police Arrest 20 Arsenal Fans Over EPL Trophy Parade
"I have advised the Jinja Arsenal fans to coordinate the next Arsenal celebration over Man United or future Cup triumph with the police well in advance, to avoid any disruptions in their movements," Fred Enanga noted.
According to a statement by the Police on the day of the arrest, the fans did not have a permit to hold the procession which is a public order offence.
In an interview with BBC James Mubi, the regional police boss and a self-declared Arsenal fan noted that he had not reviewed the fans' charges.
James Mubi added that he wondered why the fans were celebrating when only half of the matches of the season had been played.
"What would happen if an altercation with rival fans broke out? They did not inform the police to provide security for their procession," Mubi noted.
However, Mubi dismissed the reports suggesting that the arrest was linked to the frequent arrest of members of the opposition party.
Arsenal extended their lead on the top of the log to five points after the 3-2 win against Manchester United with the club aiming to end its 19-year wait to win the English Premier League. 
Also Read: Explained: What Rashford, Saka Iconic Celebrations Mean