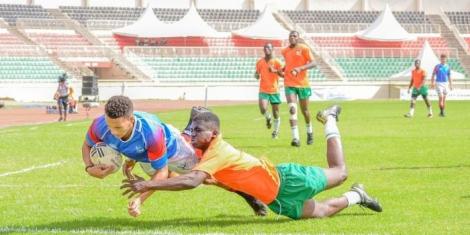 Ivory Coast suffered a 62-0 heavy defeat to Namibia in the 2022 Under-20 Barthes Cup which kicked off at the Nyayo National Stadium in Nairobi on Saturday, April 9. 
Namibia went into halftime with a 29-0 lead with five tries and two conversions before extending their lead in the final half. 
With the 62-0 win, Namibia secured a spot for themselves in the Semi-finals which will be played on Wednesday, April 13.
Also Read: Meet First Kenyan to Play Pro Rugby in Japan
Namibia who exited the 2019 tournament final showed their class with ten tries as their opponents failed to get any response in the match. 
Zimbabwe also booked themselves a spot in the semifinal after defeating Tunisia19-18. 
This year Africa's premier junior tournament comprises eight teams that will battle it out across three match days for the continental honours. 
Senegal conspicuously missed the tournament with Kenya and Madagascar being the only two teams who returned to the tournament. 
Only two teams, Kenya and Madagascar, return to the tournament with Senegal conspicuously missing.
Also Read: Nairobi Hosting Africa's Rugby Championship, How to Purchase Tickets