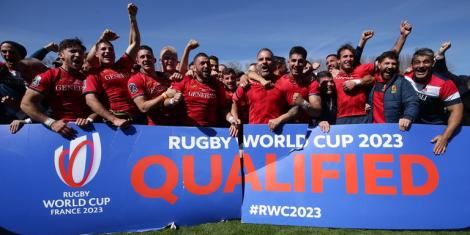 After securing the spot in World Cup, Spain has been eliminated from the 2023 Rugby World Cup over fraud allegations.
In a statement released on Thursday, April 28, the Spanish Federation confirmed that the team had been disqualified from the tournament.
According to the reports Spain were in breach of law as one of their players Van der Berg was said to have forged his date of entry into the country in order to meet requirements.
Also Read: After Heart Surgery 21-Year-Old Kenyan Lead Shujaa to World Cup  
"After the oral hearing held this Thursday, April 28, with the independent judicial committee appointed by World Rugby to study the claim of the Romanian Rugby Federation (FRR) on the eligibility of Gavin van den Berg. 
"The highest body in world rugby has decided to penalize Spain with ksh3.6 million (£25,000) and deduct five points for each of the two games in which this player was lined up," part of the statement read. 
The disqualification came as a result of the World Rugby investigation following a complaint lodged by Romania. 
Romania missed out on automatic qualification after finishing just behind Spain in their group. 
The Spain Rugby Federation noted that though the official ruling was not made they know that disqualification is imminent for them. 
"While waiting for World Rugby to make the ruling official, this decision means disqualification from the 2023 World Cup in France, a competition for which the XV del Leon had qualified directly by finishing second in the Rugby Europe Championship 2021-2022," A statement from Spain's rugby federation read.
The Rugby World Cup is scheduled to take place from September 8, 2023, to October 28, 2023, in France. 
Also Read: Kenya Rugby Union Warned Over Sweet Ksh2.1 Billion Deal