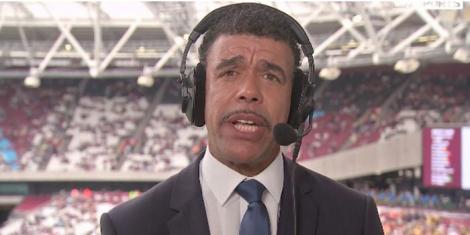 Celebrated TV presenter Chris Kamara has confirmed that he will be leaving Sky Sports at the end of the season after being with the outlet for more than two decades. 
Kamara has worked at Sky Sports for 24 years where he has established himself as one of football's most popular reporters. 
The 64-year-old presenter in his statement noted that while working at the British Media house he was never under pressure.
Also Read: Todd Boehly Group Wins Bid to Buy Chelsea 
"My long career at Sky Sports has never felt like work. I've spent 24 terrific years at Sky, and leave with the best of memories," Kamara noted. 
Sky Sport also issued a statement in regard to the reporter's exit announcement, thanking Kamara for his services at the media house. 
"After 24 brilliant years at Sky Sports, including many years as a star of Soccer Saturday, Chris Kamara is leaving the show at the end of the season. 
"The Soccer Saturday show paid tribute to him this afternoon, and he leaves with our thanks and very best wishes," a statement from Sky Sports Read. 
Kamara who is popularly known as 'Kammy' in March revealed that he was battling a health condition that might force him to leave the screen. 
"My Apraxia when it's bad stops those signals from the brain going to the mouth so it slows it down. In fact, at times it slurs the words as well. So people are looking and thinking, 'Is he alright? Is he drunk?" he noted previously. 
Kamara played as a midfielder for 20 years during his career as a footballer before hanging up his boots in 1995 having played for Brentford, Stoke City, Leeds United, Sheffield United and Middlesbrough among other clubs.
Also Read: Tanzania Derby to Honour Kibaki Before Captivating Clash