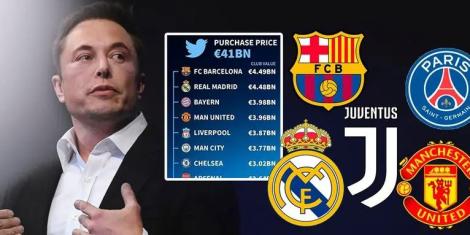 Tesla Motors CEO Elon Musk ignited a debate online after he struck a Ksh5 trillion deal to purchase Twitter. 
The deal, touted to be one of the largest buyouts on record, has been criticised by some and lauded by others. 
However, for the price of Twitter, the controversial billionaire could have acquired 15 top football clubs across the divide.
Also Read: Todd Boehly Group Wins Bid to Buy Chelsea
To put it into perspective, this ranges from Spanish Giants, Real Madrid, Barcelona to English Premier League title contenders Manchester City and Liverpool. 
According to the 2021 Forbes rankings, the 15 clubs amounted to Ksh4.9 trillion (42.8 billion dollars), which is a slight difference from the Twitter purchase. 
Forbes ranked FC Barcelona as the most expensive football club with a Ksh549 billion valuation while Real Madrid came second with a value of Ksh486 billion. 
German Giants Bayern Munich drew third with Ksh484 billion, Manchester United is fourth with Ksh473 billion. Liverpool is fifth with Ksh461 billion price tag and their rivals Manchester City are sixth with a Ksh369 billion valuation. 
Russian oligarch cum Chelsea Owner Roman Abramovich's Chelsea price tag of Ksh436 billion still doesn't come close to Musk's Twitter buyout. 
Arsenal FC, which is regarded as one of the most successful clubs in EPL history, has a valuation of Ksh322 billion.
Other clubs on the top 15 list include Paris Saint-Germain F.C (Ksh288 billion), Tottenham FC (Ksh265 billion), Juventus FC (Ksh225 billion), Borussia Dortmund (Ksh218 billion), Atletico Madrid (Ksh114 billion),  Inter Milan (Ksh85 billion) and Everton (Ksh75 billion). 
According to the latest Forbes ranking, Musk is ranked as the richest billionaire in the world with a net worth of Ksh28.4 trillion.