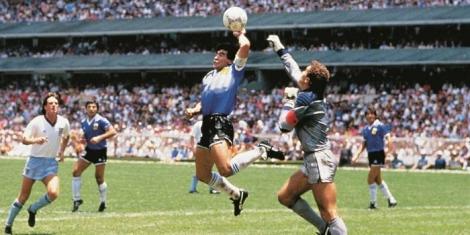 The shirt won by fallen Argentina forward, Diego Maradona, in the infamous 'Hand of God' game against England at the 1986 World Cup has been auctioned for a record Ksh1.033 billion (7,142,500 pounds). 
According to Sky Sports News, the online auction closed on Wednesday, May 4, with the jersey breaking a record as being the most expensive.  
With an hour to go before the auction closed, the price of the jersey was tagged at 4 million pounds, but the price grew by more than three million pounds within the final minutes. 
Also Read: Story of Diego Maradona's Jersey Being Sold for Ksh602 Million 
The report did not, however, reveal the name of the bidder who made the historic purchase. Initially, the jersey was under the ownership of former English footballer Steve Hodge. 
Further, it was reported that the Argentinian Federation had requested Hodge to directly sell the shirt to them prior to the auction taking place. 
The former English footballer had initially pegged the jersey's price at Ksh602 million. Hodge noted that the price tag was in relation to the deep cultural meaning to the football industry with the iconic symbol that the shirt represents. 
"The Hand of God shirt has deep cultural meaning to the football world, the people of Argentina and the people of England and I'm certain that the new owner will have immense pride in owning the world's most iconic football shirt," Hodge stated during a past interview. 
The family of the fallen Argentinian had thrown a spanner in the works after they claimed that the infamous jersey was not the real one. 
According to Maradona's eldest daughter, Dalma Maradona, her father had swapped his shirt at half-time due to high temperatures at the Azteca stadium in Mexico City. 
The daughter, however, did not reveal who was in possession of the jersey.
"The ex-England player thinks he's got my dad's second-half shirt but there is a confusion. He has the first-half jersey. I wanted to explain that to people so that whoever wants to buy it knows the truth. 
"My mum does not have it. I know who has it but I am not going to expose that person," she claimed.