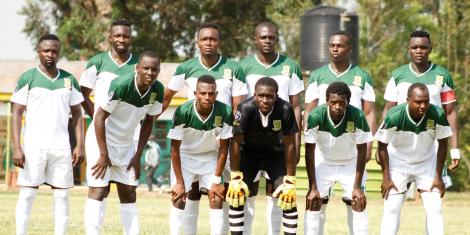 Mathare United risk relegation from the Premier League after forfeiting its third straight league match.
The Slum Boys were scheduled to play Sofapaka on Friday, May 6, but failed to honour the match due to financial constraints.
Mathare have failed to honor two of their last fixtures against Bandari FC and Ulinzi Stars.
Also Read: GSU Officers to Provide Security During Mashemeji Derby
According to the Football Kenya Federation (FKF) rules, a team faces automatic relegation upon failure to honor three matches.
"A club failing to turn up for any league/competition match shall submit a written explanation to the FKF National Leagues and Competitions Committee within forty-eight (48) hours from the date of the match.
"Any club in a league format that does not turn up for three (3) fixtures in a season and their explanation, under Rule 3.1.7 is not accepted in all the three (3) incidences to the FKF National Leagues and Competitions Committee, shall be suspended for the rest of the season shall be relegated to a lower league for the next season and may face other disciplinary action," the rule reads.
Mathare had issued a statement before their first forfeited match against Bandari noting that they would not be able to honour the fixture due to lack of funds.
If Mathare gets relegated, this will be the first time in the clubs' rich history in Kenyan football to be in such a scenario.
Sony Sugar suffered a similar predicament in 2019 leading to relegation from the league.
However, Mathare are still waiting on the official statement from the FKF Caretaker Committee whose mandate ends on May 11.