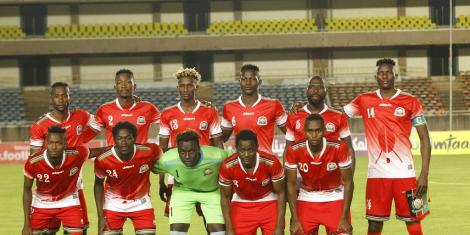 Cameroon will issue Kenya's national team, Harambee Stars, with free visas during their AFCON 2023 group stage match.
The West African nation will welcome Kenya at the Yaounde Olembe Stadium on June 4 for their first group stage qualifiers match.
In a letter to the Football Kenya Federation (FKF), Cameroon FA noted that it will grant all members of the Kenyan delegation free entry visas in to the country.
Also Read: Kenyan Referees Go For Five Months Without Pay
"We would like therefore to inform you that we are willing to grant free entry visas to all members of your delegation upon their arrival at Yaounde - Nsimalen airport and to cover the cost of Covid - tests for your entire delegation. 
"By virtue of the principle of reciprocity, we ask your federation to do the same for the Cameroonian delegation during the away match," the letter read in part.
The team has been advised to send a list of the members of the delegation and include scanned copies of their passports.
"In this regard, we kindly ask you to send us the list of the members of your delegation as well as the scanned copies of their passports, latest by Wednesday, May 25, 2022.
"Please note that the cost of the visa is fixed at USD 100 (Ksh11,500) per person . Each member of your delegation is kindly requested to bring his/her vaccination booklets," the letter read.
Harambee Stars are in Group C together with Cameroon, Namibia, and Burundi in the AFCON qualifiers.
Kenya will be aiming to make a return to the African tournament after being out since 2019.
However, Harambee Stars, risks not participating in the qualifiers if the current ban by FIFA is not lifted before the match start. 
Also Read: GSU Officers to Provide Security During Mashemeji Derby