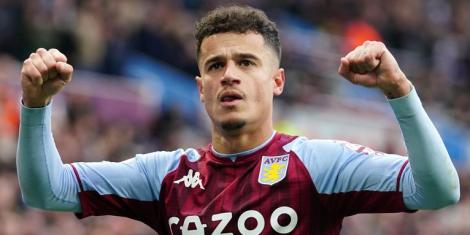 Aston Villa have announced the signing of Philippe Coutinho from Barcelona for an estimated £17.2m.
Aston Villa announced the signing of the 29-year-old during the club's awards show. Coutinho's former club, Barcelona, has a 50 percent sell-on in the deal.
 
Coutinho has been with Aston Villa since January and the opportunity to continue playing under his long-term friend, Steven Gerrard, was key to his acceptance of the contract which is set to expire in 2026.
Coutinho accepted a significant wage cut compared to his contract at Barcelona.
Villa's highest earners, one of whom is thought to be Danny Ings, earn around £125,000 a week.
"This is a brilliant signing for Aston Villa," Gerrard said. "Phil is a model professional and his impact on the group has been very clear since he joined in January."
"With the way he conducts himself on and off the pitch, he's also a valuable role model for our younger players who can only benefit from his experience," added Gerrard.
Prior to joining Barcelona from Liverpool, Coutinho played alongside Stephen Gerrard.
Payment terms were the final element settled in negotiations between Barcelona and Villa, whose work in sealing the transfer was praised by Gerrard. 
"As we look to build towards next season, it is incredible to work at a club that executes its business so decisively and smoothly," he said.
Coutinho has played 16 times for Villa, scoring four goals and providing three assists, although all of those came in his first eight appearances.
The Brazilian playmaker will for two years be a strategic asset to Villa after their Tuesday, May 10, loss to Liverpool.