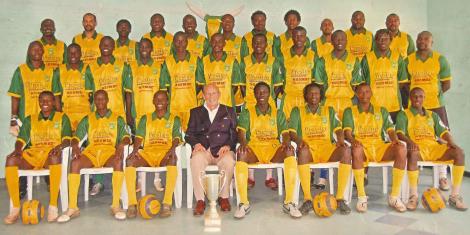 Mathare Football Club has explained its inability to honor matches that have since seen it relegated by the Federation of Kenyan Football (FKF) transition committee.
The club's founder and chairman, Bob Munro, in a statement dated Tuesday, May 17, outlined a litany of reasons behind their failure to honor their FKF Premier League fixtures, stating that the lack of funds to organize matches is the most pronounced.
Munro blames the club's failure to organize the matches on the failure of the Caretaker Committee to disburse monthly grants to the club.
Also Read: Bundesliga Tax: A Look At The Multimillion World of German Transfers
The club was suspended and relegated by the newly mandated FKF Transition Committee on its first day of office on Saturday, May 14.
The club further argues that it had religiously paid its monthly subscriptions to the FKF Caretaker Committee and cleared its arrears. 
"On April 23 our club had enough funds for either to cover the cost of our last eight matches or instead help to reduce the financial pressure off our players and family and instead chose the latter," stated Mathare in the statement.
The founder explained that the club did not willingly disregard the three consecutive matches.
"On April 24, the club lacked the funds to host Bandari and sadly forfeited the match in our 28-year-old history.
"On April 30, the club lacked the funds to cover our away match against Ulinzi Stars and sadly forfeited our second match.
"On May 6, our club lacked the funds to cover the cost for hosting Sofapaka and sadly forfeited our third match," explained Munro.
The club also wondered whether the FKF Transition Committee had the powers to take such stern action against it.
"After featuring since 1999 in the KPL for 24 consecutive seasons, is it right and fair and even in law for the FKF TC to suspend MUFC or any other clubs because its predecessor FKF CC in which you also served as the Head of Secretariat repeatedly failed to pay its monthly grants in a responsible, reliable and timely manner?" wondered Munro, in a letter addressed to the Secretariat head, Lindah Oguttu.